My biggest takeaway was that I am not alone in wanting but not getting to play Dune and Sidereal Confluence

Also missing any and all "I went all in" Kickstarter paraphernalia… and what is in the mysterious cofffer? Not poker chips?
I am so delighted I finally got a copy of Dune, after wanting one when it was out of print for so long. I do not ever expect to get it to the table, no.
I had that with Rex and GOT that I bought second hand, and looks like I won't play for a loooong time. I haven't seen the video yet, but cannot wait to catch up after work.
I feel like SU&SD are gaslighting me about the pronunciation of osprey, as now both Quinns and Tom are pronouncing it wrong …
It's a bird of prey and it's pronounced oss-prey right?
I've heard Quinns say oss-pree, which confuses me mostly because I think Quinns has an affection for birds of prey.
Hmm. Osprey - Wikipedia lists both those pronunciations, so this might just be a regional thing?
As the name of a U.S. company, they're probably intentionally saying it "correctly"?
Edit: Nope, I keep getting things back-to-front… (I'd also briefly suggested above that the OED had the "-pree" pronunciation).
Osprey Publishing, Kemp House, Chawley Park, Cumnor Hill, Oxford, OX2 9PH, United Kingdom
So yeah… absolutely no clue why SUSD are saying it that way.
I thought Osprey was British? Incidentally the UK version is what I'm used to in Canada.
Yes, that was just a dumb unverified assumption on my part, because it had seemed to explain it.
Sometimes it's hard to know if a pronunciation is a joke by the folks. They probably met an osprey PR who set them right
I grew up around ospreys and always said os-PRAY. In California. But it's one of those words I read more than heard.
I also thought that chah-ohss and kay-oss (chaos) were two different, but similar words until I realized I only ever read the one and heard the other.
So maybe I have issues.
Re: Sidereal and Dune, I really think at some point we need a a weekend Tekeli retreat somewhere central. If we're all in the same boat, we might as well spend a weekend in the same town.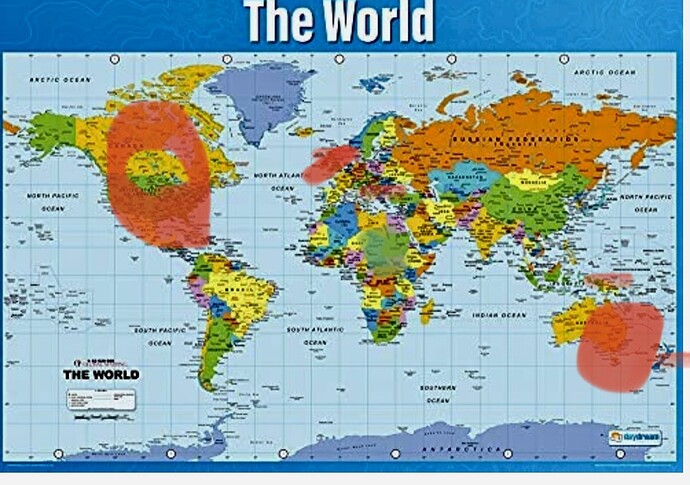 I've marked members countries in red and the middle in green. Looks like we should all meet at the gaming con in Uganda
I hear South Sudan is lovely this time of year
I got out a globe and, taking the curvature of the earth into account, Japan is surprisingly central (if you can fly straight over the top).
Or, possibly more tantalizingly, if we sacrifice Chewy and Agemegos, Bermuda.
Hsst! Ixnay on the acrifice-say!
Though thinking in terms of three general gatherings, "US and Canada", "Europe it's my site so I say that includes the UK dammit", and "antipodean", might start to seem plausible.
Sir, I'm pretty sure that's pronounced cows moo
The percentage of availability of my collection is exponentially proportional to the proximity of this to Kansas City.