Bought some games from Button Shy; Stew, In Vino Morte, and Skulls of Sedlec
BGG says it's 43% of an Ogre! That's huge.
As I mentioned on the crowdfunding line, this thing arrived Friday (ISS Vanguard)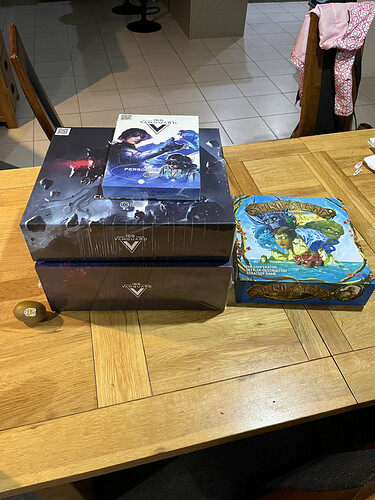 Copy of Spirit Island and kiwi for size comparison.
I uuhhh… bought more games. Oh no. My reduction goal slowed down.
Fresh Fish - I sold this one to @raged_norm , but one of the rare case of rebuying it. I end up enjoying it with more plays lol
Acquire - I own an old copy from the 1970s or something. But this Avalon Hill 1999 edition seems fun.
Stich-Meister - another trick taker "Grail" for me.
Again, bought a while ago, but Everdell: the Complete Collection arrived.
It's a biggun!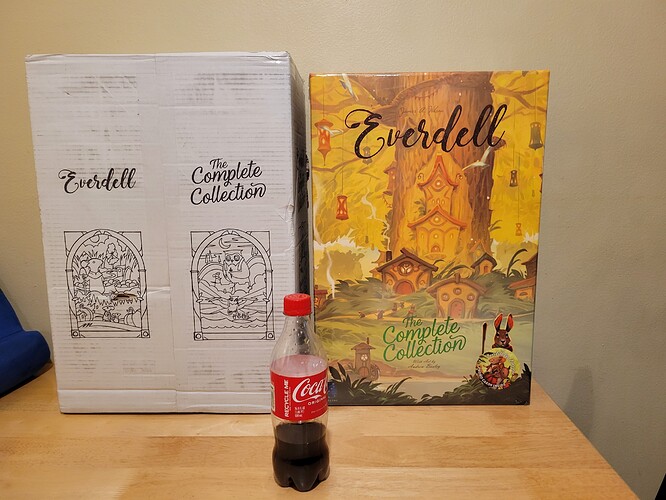 16oz Coke bottle for reference.
Though even the box it shipped in has lovely artwork.
I'm imagining that it's 2L.
16 us fluid ounces = 473.176 millilitres
But assuming 2L is definitely funnier

@COMaestro what's in the complete collection?
Everything

it's complete.
As far as I know all expansions including the 2 new ones. I am still awaiting my copy. Had hoped to receive it pre SPIEL. I have at least one friend badgering me to play it ASAP.
I didn't know there was more in half a litre than those ozs. Another reason why metric beats Imperial.
And I got my shipping notification

Yay! (Everdell)
20 pounds (9.07 kg) of fun, I hope!
Like yashima said, it's everything. All existing expansions plus the two new ones, a wooden tree (instead of cardboard), fancy tokens, open signs, just everything!
Sadly, I have not had a chance to open it up yet.
Pics when you do, please!!!
With the pound tanking against the dollar, I panic bought Dual Gauge: Denmark and England and Wales as Second Chance Games put out a warning on price rises.
Will be arranging a pickup to go get it as it's fairly local to me and only marginally off my commute.
Hmmm… after a few months of nothing, I bought more games. Amazon Japan got a good amount of Knizia stuff with great production
Square on Sale - okay. Not a Knizia. Heard great things and the auction sounds bonkers.
Stephenson's Rocket - The Japanese edition looks so TINY! As it's one of my top games, I don't mind buying it to satisfy my curiosity. I might end up keeping this one over the Grail Games edition. We'll see…
Penguin Party and Escalation - Knizia
Dokitto Ice - another trick taker
Glenn's Gallery - didn't bought this Knizia, but I got this for free from an OG Guilder
Europa 1945 - 2030 - what do you mean this box cover isn't awesome!?
"So the box cover, then… what should we be aiming for?"
"Bewilderment. I want people to be completely lost for words, and yet at the same time unable to look away. They should be searching for meaning, yet utterly confused. Nothing can make sense, and there should be a faint undercurrent of dread."
That baby is going to shoot laser beams from its eyes any moment while the O in Europa suggests we're really just visiting an amusement park–an old derelict one from one of those horror movies I haven't seen?
PS: uncanny continent really.
That baby is called Damian.