What was the last game you bought? Why did you buy it? Did someone recommend it?
I don't usually post to this thread on the Shut Up and Sit Down forums, but it's one of my favorites, so I'd like to invite people to join me on it here.
I was anticipating holding a small board game con for my friends to celebrate my birthday this year (now cancelled
). So I used it as an excuse to buy a lot of games. Once my family started isolating, I used that as an excuse to buy some more. So an incomplete list of recent acquisitions is:
Teotihuacan: The Late Preclassic Period: My spouse and I really enjoy the base game.
Knit Wit: Ridiculously cheap, and I had reached free shipping.
Princess Jing: I thought the theme would appeal to my middle child, and my eldest and I play a lot of two-player games.
Discoveries: The Journals of Lewis & Clark: One of the first modern board games I bought was Lewis & Clark, and I've had my eye on this ever since.
Taverns of Tiefenthal: We got this for my brother-in-law for Christmas and really enjoyed it, especially with all the modules in.
Letter Jam: I like cooperatives and words. NPI gave me an excuse to go ahead and get it. Now I just need to figure out how to get the bonus

#9

chip.
Hive: Carbon: To replace the copy stolen from our car.
Gingerbread House: To play with my eldest child when we don't have a lot of time.
Bruxelles 1897: Several years ago I was entranced by Bruxelles 1893, so when this equally beautiful sequel came out, I gave it to myself as a birthday present. But it doesn't seem to be a hit with my spouse.
Histrio: It was cheap and has charm for the kids.
Whitehall Mystery: Often, Scotland Yard is too big and needs more players than we have. Planning to gloss the exact nature of the mystery to play with my eldest child.
Neon Gods: I'm a bit embarrassed about this one, because even if I particularly liked area control, I wouldn't have picked this one. But it was marked down, and I love the art.
Mysterium: The family really likes this (the 4yo regularly demands it), and we could no longer check a copy out of the library.
I have been notified that I have used up most of my spouse's tolerance for board game purchases this year.
Who do you think you are, buying that many games? Huh? You think you're pillbox!?

All I have to talk about at the moment is the recent arrival of a game obtained via the US April 2020 Math Trade. Smallworld. I own Smallworld Underground and quite like it. I don't have a mind for "dudes on a map strategy games" so much, so the fact that you can essentially hit the reset button on your map position every turn or every alternate turn means I don't spend most of my time with my head in my hands, whimpering and muttering "what have I done" over and over.
I think there's an expansion you need in order to play with Smallworld and Underground together and I doubt I'll ever track it down… I don't need that much variability; I'll just play one or the other.
It's very out-of-character for me. That's about (if not more than) what I usually buy in a year, including presents for my kids' birthdays and St. Nicholas Day. I must be stressed or something.

I bought Nusfjord to take a punt at the solo. It's my first Uwe Rosenberg game, and the first game I have that has that classic Euro look. Usually I find the aesthetic a bit dry but I'm enjoying the smiling man on the side of the box: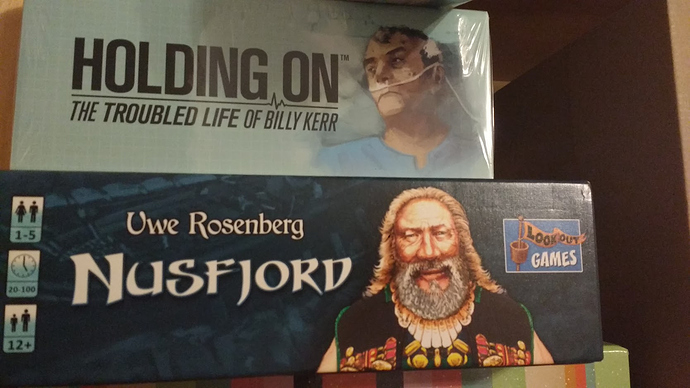 He at least provides a contrast to Billy up there. Holding On is still in cellophane because I haven't managed to find anyone who is excited to play it. Based on the sale price I got it for I get the impression that this is a common issue…
I almost got it on sale in my last big purchase, but I showed my spouse Rahdo's runthrough and she nixed it.

My game buying has dropped off a lot in the last year or two, partly because I have many of the games I want but largely if I'm honest because the games room is Full. I'm trying to shift some of them, but without much luck.
The most recent game that arrived in the house was D-Day Dice, the "we saw you coming" pledge with basically all the game content (but none of the extras like mats and things) plus over two years of delay from the original estimate. It's currently also shelf-of-shame because I haven't played it yet…
The most recent game I paid for was the Steampunk Rally Fusion kickstarter, which started a couple of hours ago. (Goes off to start a Kickstarter Thread.)
I'm not sure what the most recent game was that I paid for and received fairly immediately. Probably Baseball Highlights 2045 that didn't move in a recent BGG Maths Trade, so I made a cash offer afterwards.
The last game I bought, many moons ago, was A War of Whispers based on SUSD's review (a rare occurrence!) I was not disappointed, though, and when my group tried it out, we ended up playing three games in a row. It's a lot of fun.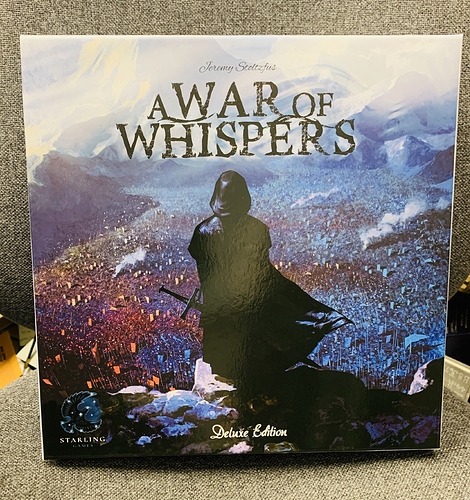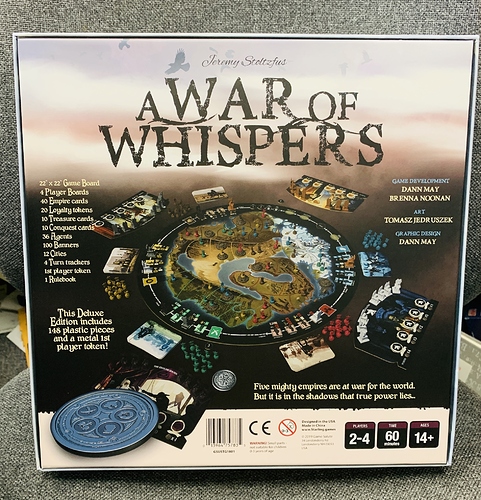 I will say that the rule book is horrendous. Very confusing despite the rules not being all that complex. I'll give the designer credit though, he has acknowledged this and is very forthcoming with clarifications on BGG.
I would love to pick up War of Whispers. I can only hope there's a reprint at some point, as I will not pay for the Deluxe edition, and last I looked, the normal edition had very inflated prices. Loved the review of it though.
Whar of Wispers is definitely not my style of game. Yet, for the sake of curating a collection with "a bit of everything," I still have a middling interest in grabbing a copy. But the chances of that happening are slim due to SUSD's coverage of it (which is the only reason it's even on my radar, so I can't really complain about that)
Santa Monica. My FLGS is closed right now so I ordered it directly from AEG.
The regular edition has one BIG advantage over the deluxe: wooden cubes. The little flag minis in the deluxe edition are very fiddly and fragile. For our games, we used my plastic cubes from Spheres of Influence because they were close color matches.
My Shogun game has a multitude of cubes! Hmm, I wonder if I could make my own copy…in all my free time (which I really don't have). Nope, probably not.
Theoretical free time. I have a plethora of that!
I've stumped up for a pre order of Root. Not sure when it's going to arrive, hopefully before Xmas
And I forgot, I accidentally bought Stephenson's Rocket on eBay on Sunday morning
Oh? Trip and accidentally clicked "Bid Now", did ya?
Who am I to talk… I overspent on Stephenson's Rocket because the person selling it listed it for sale with the expansion maps!
I already have Root, Riverfolk, Underworld, Resin clearing markers, Exiles & Partisans, and the vagabond pack… I've played exactly 2 turns of a solo game. And yet I do have the playmats on preorder at a OGS (because the boards I have are hopelessly warped and unable to stay flat due to corner-cutting in production). Why should I reward Leder with more sales for making inferior products? [pillbox shurgs] I dunno I have a problem
I went with a low bid, expected to lose out. Got an email 5 hours later saying I'd won.
It's the Rio Grande version and looks quite old so I hope its all there and the components are ok quality.
Root - we played in a games cafe and really enjoyed. Ebay or second hand prices are just silly. I think the reprint is due in May, but how that will be affected by Covid I'm not sure, that's if any make it out of the USA anyway.
Has @pillbox got another Roads and Boats yet? I've missed whole day, there could be three more copies!
Sadly, no. Still at the 3 boxes containing about 2.2 games' worth of components.