Gwen's impression looks inarguable to me.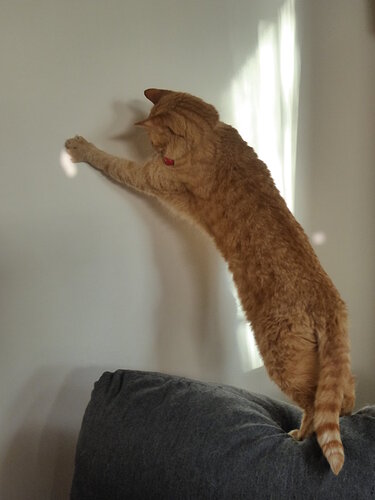 This was not the easiest photo to take – the small spot of light was sunlight refracted through my glasses – but only if my head was turned to the side so far that I could barely see any of what was happening, and only by straining to look out of the corner of my eye. At the same time I was moving my head around slightly so that the spot kept moving just out of reach (movement! exciting! must get it!). I couldn't see my camera at all, so I thought this came out great : ) (it's not even cropped!)
"You will see from my resume that I caught the red dot."
A few pictures of my cats, Donut and Koko, just because they are adorable and everyone should get opportunities to appreciate that.
That's Donut (named after the cat in the old Trigun anime… which is technically named "Kuronekosama," Lord Black Cat, but the English subs usually say her name is Donut because it's something that Vash loves more than anything else). She is 15 this year.
That's Koko. She's 10 and a big poof ball. Super soft, super gentle, and a bit weird (she likes ice. I have no idea why, but she really likes ice).
My partner was laughing the other day as our cat (about to turn 1 tomorrow) was so excited to look at the birds from our kitchen window. I think I can even quote "Thanks God, she's become rubbish at hunting"
Well…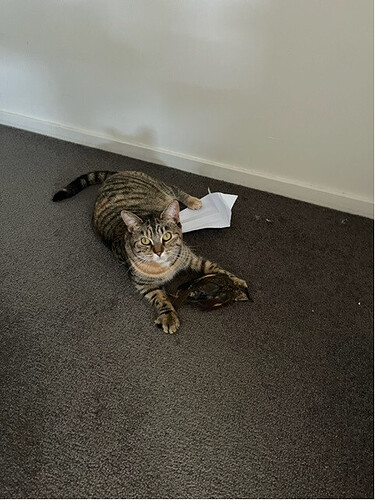 Time to look for that collared bell again…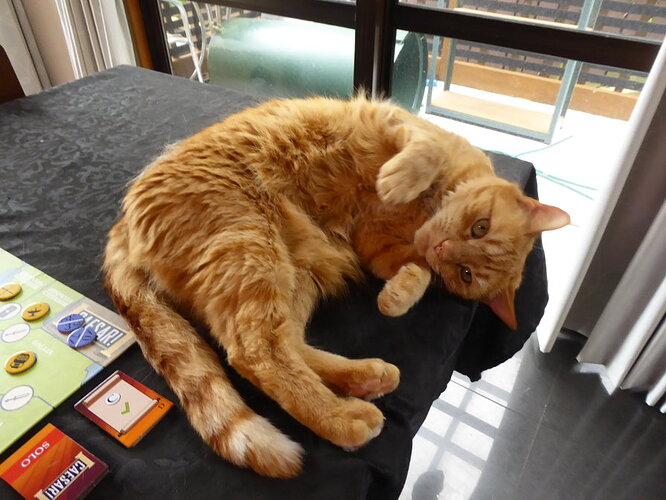 Marlowe, insisting that he is more worthy of attention than the silly cardboard thing, and lying on top of Pompey's hand of influence tokens just to make certain.
You know you don't count that in VPs, do you?


Going back to felines, our Luna nearly caught a blackbird today. We definitely need to replace her collar with a belled one, she will decimate the local Eyrie if we let her. Marquise du Cat would love her in her ranks…
My feline has found a mouse-mine. In the past four days I have rescued one which seemed healthy, had one escape indoors, which doesn't thrill me, and administered the stomp de grace to a third just now.
And I woke with the animal sitting on my head, all full of his fine fellerdom and purring.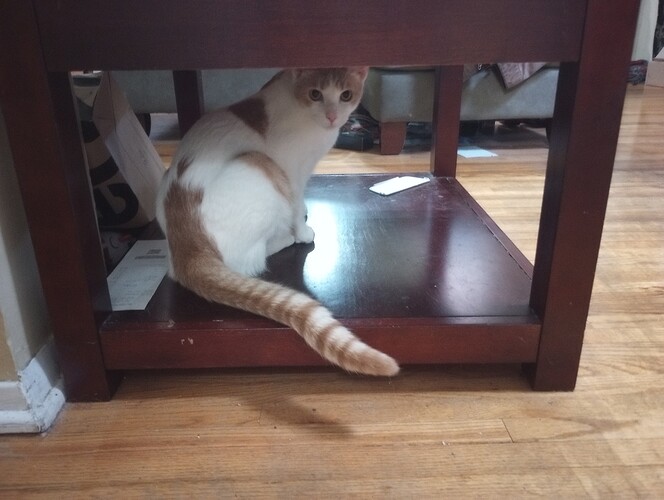 Baldur here has only brought in one bird in the three months he's been here (he didn't kill it), but he brought in three lizards last week.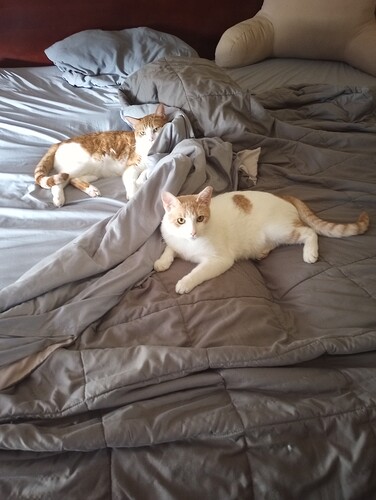 Here he is taking up space on my bed along with Thor, who finally seems to be getting used to the idea that he's once again not the only four-leggedd member of the household.
Ice cream chain with a store near us has their seasonal apple dumplings a la mode right now, which I love. So we went and got those for the human members of the household tonight and a doggie sundae (tiny bit of vanilla ice cream topped with a dog treat) for Gwen.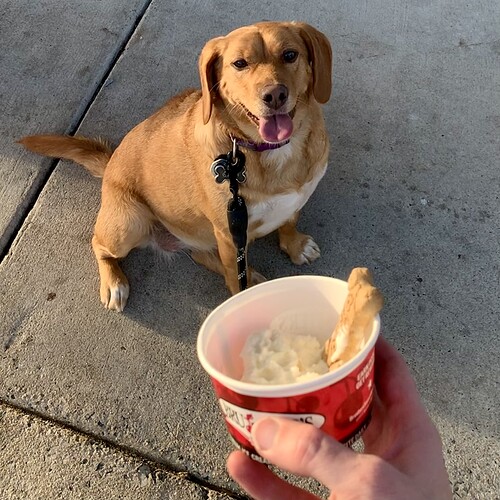 Come the revolution, all the workers shall have cats.
"When my revolution comes, buddy, you won't just get the wall, but all 4 of 'em and a roof and enough food because I think that's the bare minimum society owes everyone."
And maybe a cat or dog if you want. Because everyone deserves unconditional love as well.