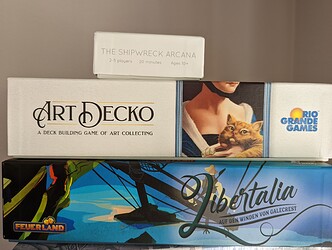 Recent arrivals:
Libertalia: already played. Probably more fun with higher player counts which suits me perfectly. Need to play in a double feature with Mission Red Planet. Who would win: the Brunos vs Paolo Mori? The cardplay seems similar but what happens with the cards is different enough to maybe maybe own both. I originally bought Mission Red Planet because unlike Libertalia it was available and personally I prefer SF settings over pirates (my partner currently disagrees–he is playing "Sea of Thieves" on the computer) and I have a thing for area majority/control games aka games with maps. Libertalia is newer and therefore has better production. Mission Red Planet has little plastic astronauts. So there's that.
Art Decko: I have played this on BGA and after 2 plays I decided I needed to own this. Now many months later the game finally came in stock and my "preorder" arrived. It is a far bigger box than I anticipated, at max I would have assumed Brass B but it is a full-size square box. The board is also full-size (4 squares) and I am realizing how much book-keeping the BGA implementation does for you. I am not sure yet if this one falls into the "did I really need the physical copy" category. But I have friends whom I want to show this to who do not play digital board games. I am planning a triple feature with Canvas - Modern Art - Art Decko. (mostly so I can finally get Modern Art to the table)
Shipwreck Arcana–thanks again for mentioning there was a possibility to get this @SteveB_uk and also @Monochrome_Penguin for talking about it in the first place. I had previously tried to find this (because Zee) and gave up on it. I'll take it on our trip and see if it is worthy The box arrived with one corner already damaged a little bit but it's okay enough. I already love the tarot sized cards… can't wait to try this.
Oooh yes, let us know how it plays!
Was weak and bought Rolling Realms second hand from another member of the Monday Night Games Group for a mere 25 NZD. I have heard really good things about it, and I couldn't resist at that price.
My husband couldn't sleep last night and in his exhausted state he bought some * whispers* war games

I bought Harpoon V with some US$ royalties to avoid the currency conversion…
5211 - Azul edition - cheap card game, why not?
Radlands - 2 player card game that said to be similar to Schotten Totten/Battleline?
Alice's Garden - was given this and Radlands, as I do shilling as a side-gig now
Age of Steam: Heavy Cardboard & Detroit Bankruptcy - Is there such a thing as "too many Age of Steam maps"? The Lord says no
I saw a copy of Cuphead Fast Rolling Dice Game back around December, in an unlikely shop, at a fairly unfriendly price. I survived the blind-buy at the time, watched some gameplay, confirmed it looked like a worthy buy and of course it's been out of stock since. One of my local shops had it back in today, so I took it home.
I bought it explicitly for light fun with friends and family but took a practice run by myself this evening, and it's not half bad as a solo game. It's definitely high-stress, high-action stuff. It's no thinker, but still produces just enough cognitive load against the time pressure to make for a frantic time, and the challenge seems quite stiff.
A fun pick up for the family corner!
Ooh that's tempting as my son loves Cuphead!
Ghosts of Christmas, because it's a trick taker, and I can't resist them. Late pledge, so not sure when I'll get it.
*search search*
Oh, what the hell is that?
I sometimes wonder whether there are psychologically-scarred "focus groups" of children out there, who have been subjected to all manner of horror in an effort to identify those particular forms of horror which, inexplicably, appeal to (only) children? Who's creating these nightmares and thinking "I bet kids will love this!"?!
It's actually a genuinely good computer game, although bloody hard. Really enjoyed playing through it with him.
It's only PJ Masks, Beppi, YouTubers playing games, Five Nights at Freddies, PAZU games, Roblox, Shark Bite, and a billion others that fill me with dread and horror.
As a kid, I was subjected to the fun and amusing 'Mr Noseybonk'. He still haunts my nightmares.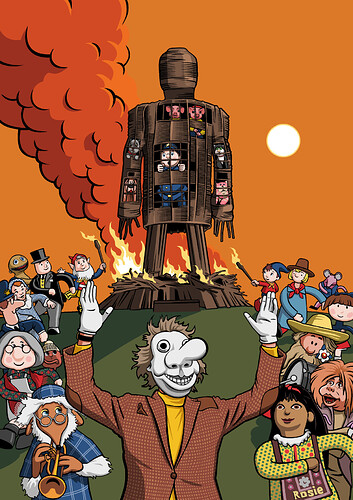 (From Jim'll Paint It)
I really hate the rubber hose animation style and I hate that Cuphead's success has inspired so many copycats.
It's the gameplay that roped me in. This isn't some 1:1 translation of the game. It's more like cooperative Martian Dice in ultra-fast-forward with a really mean streak. It's a LOUD game!
[EDIT] @bruitist it's a tragedy that artist managed to miss even one of Dr. Snuggles' many visual horrors.
Huh. I've just looked that up and it looks eerily familiar, but I can't remember anything about it …
Oh. Oh, wow. "Jim'll Paint It" could be expensive for me.
Narcos, because it was cheap. I have looked at it in the past, and it seems to be well reviewed. It's one vs many, which I never used to like much. But games like Scotland Yard and (more recently) Treasure Island are pretty good.