@COMaestro @RogerBW @Chewy77 @Lordof1 Awaken Spirits, the time has come to drive off these new arrivals who blight the land!
(Captbnut let me know via DM that they would rather sit this one out. Carcinisation avoided… for now.)
I gather from the sign up that you have all played before, but in case they are helpful:
Link to Core Rules
Link to my Abbreviated Rules
and if you have any questions I will do my best to answer them.
The first step of Setup, before anything else happens, is to choose an Adversary and difficulty level.
Because their escalation effect never requires player decisions, I propose the Adversary for this game be Sweden: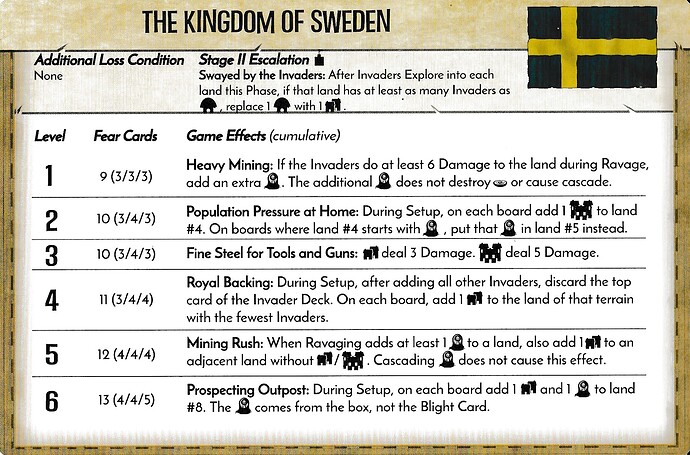 Assuming you are all happy with that, I will learn how to make a poll for you to express your preference for difficulty level and take the lowest result…
No Adversary
Level 0 (Stage II Escalation effect only)
Level 1
Level 2
Level 3
Level 4
Level 5
Level 6
I don't like making decisions, someone else can decide
Once the results are in I will post the board and seating positions and we'll proceed to Spirit selection.