OK, here's the map, @RossM gets the basically meaningless choice of which start hex (marked by a square) to start in, and @pillbox has the marginally more meaningful choice of going to the left or right of RossM.
For this first image I have cut out all the expansion buildings we aren't using, but I probably won't bother in future images.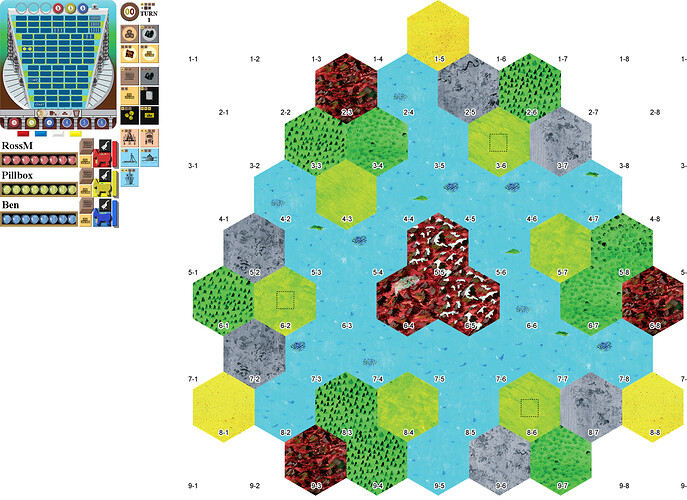 I think we should probably provide our full turns in any order, suitably obscured by spoiler or summary tags split into 4 separate phases.
I will then look at the first phase, post an updated map, and wait for whatever interval we think is reasonable before looking at the next phase and posting the next map.
Initially, of course, there'll be no scope for interaction and I'll just do the whole turn at once, but we should get used to the correct formatting from the start.
As previously, please try and anticipate the need for conflict and post non-spoilered conflict remarks between your spoilered phases.
All that sound OK?
Sure, wouldn't do any harm.
My first turn. This is an example, please check it out after you have posted your own:
Production

load donkeys with 1 board, 2 boards, and 1 stone+1 board, respectively
Move

move 2 boards to 2-5
move 1 board to 2-6
Building

build quarry, woodcutter, and sawmill
Wonder
First turn.
Locked In
Production

Load all planks and stones onto donkeys.
Movement

Donkey with plank and stone to 5-2
Donkey with 2 planks to 6-1
Donkey with 2 planks to 7-2
Building

Woodcutter 6-1
Quarry 7-2
Road 5-2 to 6-2
Wonder

Nope
Apologies to all. It's both Thanksgiving weekend here in the US and my daughter's birthday, so I've been busy and not had much time to spend at my computer.
I expect to post my turn on Tuesday.
Let's me check with @Benkyo the rules for transports being loaded on transports
Transport carrying a transport can't carry anything else, and can only be unloaded at the beginning of the movement phase.
Thank you. I knew there was a rule where you couldn't just stack stuff on stuff.
Been rereading rules and watching videos.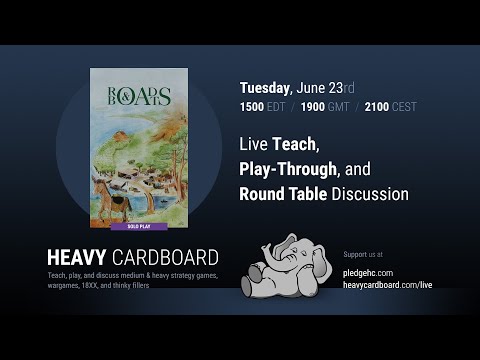 I think this is the first time I've understood the game enough to see how badly this play through is going before it goes wrong.
Just from an image, that start location seems horrible.
Yep.
It's a good teaching game including.
Unclaimed transports
Trying to build oil rigs without researching
Not recognising that all hexes can be reached by water
Turn 1
Production

Donkey 1: load 2 boards
Donkey 2: load 1 stone, 1 board
Donkey 3: load 1 board
Movement

Donkey 1: move 9-6
Donkey 2: move 9-6
Donkey 3: move 9-7
Building

9-6: 2 boards + 1 stone = Sawmill
9-7: 1 board = Woodcutter
Wonder
Production

Movement

Building

Wonder

Start of Turn 2 (automated production complete: need to show you this in advance when mines come into play)

There is a question of whether or not I should hide those images and let everyone click through them one at a time, to allow players to call "conflict!" without viewing "too much", or whether I should add a realtime pause after posting the movement phase, specifically, to allow players to call "conflict!", or whether I should just post everything and rely on conflict calls being anticipated and called in advance in the instructions - either conditionally below the content hiding or openly between phases.
Probably not an issue yet….
Perhaps you post the pre movement images and then pause for conflict?
Obviously not an issue yet, but we need to establish what to do when it will be. The problem is that conflict certainly doesn't only come before the movement phase (I called out post-movement specifically, because that has come up most in my ongoing game so far), and realtime pauses will really slow things down further.
Production

load stone and trunks
Movement

Move trunks to sawmill, stone to sawmill, 3-6 to 2-5
Building

No
Wonder

No