Bunch of freaks…

I can confirm that Summer Pavilion is just a little too complicated to be some people's first Azul game, although it might be the best one once you've got the basics.
Stick 'Em
Beyond the Sun
Power Plants
Red7
First Empires
1848
Lords of Vegas
Scout
7 Wonders Duel
Trickerion
6Nimmt
Piepmatz
Power Grid
Startups
High Society
Suburbia
Lacrimosa
Get on Board
Carnegie
Cat in the Box
Splendor
The big list of everything I played this weekend. Let me know if you want more info.
oooo you played 1848 Australia? I haven't played that one before
Yeah, haven't 18XX'ed much ('99 irl, MS, 46 and 99 online) but it was loads of fun.
Less stock market, more good trains. The first time 18XX player won by getting three company directorships with three permanent trains. Whilst mine tanked into receivership.
Mainly about whether you have a time machine to fit all this in
After a holiday hiatus managed to play some Spirit Island today. Finder of Paths Unseen and Shroud of Silent Mists took on Hapsburg Braganza at level 4. I think I might be getting to grips with Finder, I think it might be a very powerful spirit but the learning curve has a steep start. I think Shroud could be a good companion so I won't get too excited about my skill level yet. I did manage to get my starting board unexplorable apart from the coasts by the third turn so that was good. I'll be interested to see how many ways this spirit can be played and what the variations in the board control are against more adversaries. Russia and England are so tough and Brandenberg Prussia is so fast I can see them being really challenging. Also coupling up with less aggressive spirits will be a tough. Shrouds is so deadly having penalties for killing as Finder was not so problematic. Good start to a complex spirit starting to click a bit
Including my best-looking effort in a while: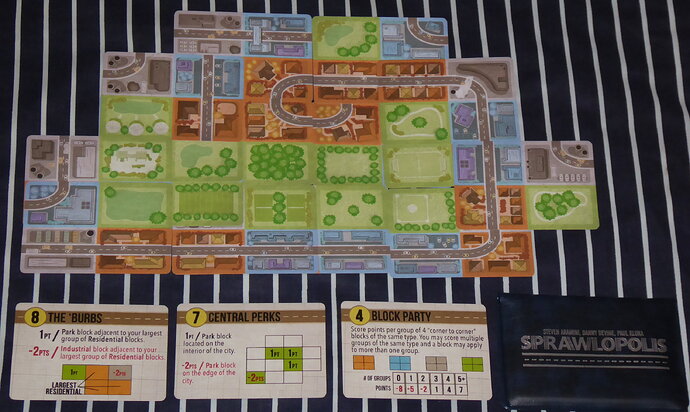 This is about the 4th or 5th time I've scored 12… I got 13 points the very second time I played, and I've never equalled it since.
Really? I found the original way trickier due to the weird scoring - felt I had to supervise people for the scoring for most of their first game - people were forever asking me 'so how many points does this piece give me?' With Summer Pavilion, sometimes folks don't grasp the bonus pieces completely on their first play but I've found it way easier to explain how to play and for folks to grasp.
If there is interest in the forums, I would love to, I haven't got any PBF going…
I was a con. Pretty slow pace, as I was gaming from 10 am to 11 pm (ish)
21 games in 13 hours is mad fast, even if some of them are filler-length. I'm agog that it wasn't a longer duration.
Also three days to be clear
Aha! I am no longer agog :‍)
I was a con
Something along the lines of "I Was a Teenage Werewolf"?
---
Edit: I Was a Gog.
Not correcting. I embodied an entire con for the weekend
That's a cool superpower…
Just finished a solo game of Great Western Trail 2nd ed, playing against Sam, the bot.
I lost, 104 - 45.
F**k Sam.
It's not Sam's first rodeo
Is that how he became Uncle??