I couldn't bring myself to put this in the "Not Games" section, even if they don't often feature a board. I'm a fairly casual fan as puzzlers go, but I do have a small collection and a few achievements to tout as well.
Until fairly recently, I was mostly into smaller puzzles—the kind you might get as a stocking stuffer during the holidays. As a fan of dexterity games, I got more from those goodie-bag ball mazes than most. On that note, I've been sharing around my copy of the Inside³ Legend "Castle" puzzle recently, which is a hoot: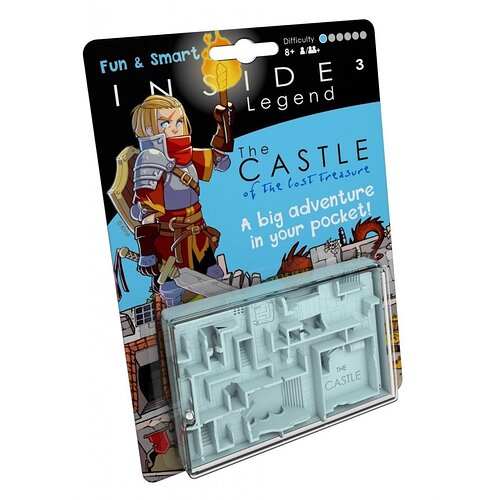 Basically WYSIWYG in the image there, except that hidden underneath is a blind labyrinth. You need to reach the "map" section and then reach the treasure, which is easy enough, but then you need to make your way back, which is filled with dead ends and pitfall traps. As a puzzle it's pretty easy but as a speed challenge it's dynamite!
And on that note, let's talk about twisty puzzles. I can (or could… I'm out of practice since being off work) solve a Rubik's cube in well under 60 seconds, have solved ridiculous variants of the same via the "ghost cube" and "ghost hedgehog", am poor at but can otherwise intuitively solve the Skewb and Pyraminx (among many others), with the stupid 2x2x2 Rubik's cube landing firmly as my nemesis.
And this is without even mdntioning the hours I've spent on logic puzzles and riddles, etc.
So who's into a good mental challenge on the less interactive end of things? Jigsaws, burr puzzles, boxes, sequential, twisty… it's all fair game here. What do you use to exercise your brain?
[EDIT] Cripes, I didn't even mention Picross/nonograms and associated word and number puzzles here. I will refrain from admitting how much Picross I've played for my dignity's sake, but they're welcome here too.