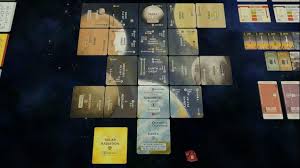 Hello All,
As discussed with @yashima, @pillbox and @RogerBW I'm setting up a pbf of Leaving Earth.
FAQ
What rulebook am I using?
House rules
I believe there are no house rules, (Having checked 'full rendezvous training' is in the core rublebook. Shout if you wish a modification.
Cooperation
I have always played that agreements are binding, for example if tech is traded with the agreement it cannot be sold on again, it cannot be sold on again. Discuss amongst yourselves.
Pbf alterations.
Some locations are secret until explored, at which point they are revealed. If they are explored by surveying you have a choice about making these publicly viewable. In order to let me play I will assemble a pdf of all available locations on a numbered grid. I will then ask a neutral party to select a random number from the set and PM it to you directly.
Difficulty?
Very Hard. With multiple agencies competing we need to have multiple routes to explore.
Signing Up
Any comments or questions leave below, if you want to join pick a space agency and roll a virtual d8…