I've only played it once, but I remember it being fun!
we really like Clank Legacy and Space Clank. So I assume base Clank is fun
Very nearly bought Clank Legacy instead.
Crescent Moon - as usual, it's much cheaper to buy it from a bookshop.
My copy of CDG Solo System landed last week; of the (easily-)supported-out-of-the-box games with a sheet included in the box, I only own Paths of Glory; which I've been meaning to check out for a while. Hopefully GMT and/or the community will cover the bulk of my other CDG games because they are not necessarily the 'most popular' or 'best selling'. I am in the market to find a reasonably-price C&C: Ancients (because: when it comes to conflict games, I prefer my conflicts old; the older, the better), but man is finding a reasonably-priced copy of C&C:A a massive pain in my C&C:bottom.
Also, I picked up some more mini-expansions for Imhotep, only to find that one of them I already had. Oh well, I can likely sell them off to recoup some cost.
And then I went and bid on a Aeon's End bundle with some overlapping content to what I already had. Fortunately, it gave me a complete 4th wave (Outcasts) and I can likely easily resell the redundant content (except the auction description was wrong and there's some missing packaging for New Age 'secrets', but the seller gave me a partial refund to cover that).
Along with Aeon's End, I picked up Star Trek: Missions at the same time. A less boob-heavy Fantasy Realms
It has arrived! Barely had time to open up the box it shipped in before I had to lave with my wife for her physio appointment (her back, my GOD her back), but it is now mine!
Enjoy! And condolences to your wife for being in the "why is the human spine like this" club.
Thanks!
We think it might be linked to her hips and the months she had to spend basically lying down/sitting after breaking her leg in January 2020. But I'm not a medical professional, nor do I play one on TV (although I have seen some on there).
I got Falling Sky: The Gallic Revolt Against Caesar and Corporate America from the Maths Trade. SVWAG is obvious to blame for me getting Corporate America. I don't know who to blame for Falling Sky. Let's try @Whistle_Pig
Because I mentioned playing Pendragon?
Guilty as charged

In the absence of getting anything in the Maths Trade I purchased Quirky Circuits as the six year old keeps asking for 'a game we can play together'.
I'm not a fan of co-ops but I do strive to be a Good Dad.
I have Falling Sky - I have liked it without plumbing it's depths. Easier to grok than Distant Plain for sure!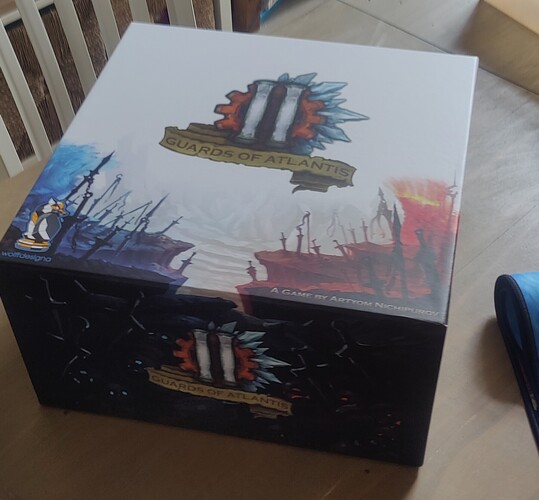 This big boy's shown up - Guards of Atlantis 2.
Love the packaging - beautiful minimalist design ending the whole box with different colours on each side for vertical storage. Would be nice to see more Kickstarter games provide boxes that don't need to fall into the conventions of retail packaging.
Got a lot to painting to catch up on!
Rear Window, I'm a bit of a sucker for co-op/deduction games. And it could be semi-co-op, which is interesting.
I really need to stop buying games for a while. Bought too many at EOY sales. Or, at least, I need to sell a few.
Bought Imhotep for a decent price. Also bought a second copy of Klask to give away.
And again I get sucked into a good deal, Funkoverse Marvel 100, half price. Never tried one of these before.
Another trade: Insider: Black edition - it's in German/English, with the German being emphasis more. It's not a deal breaker!
I have that same thing with my copy of Deception. I have the expansion in Chinese/English and it's much better
The Chinese edition is much better as it is more thematic though!

I was doing so well recently, then cosmic frog and grand Austria hotel got restocks just a couple of weeks after birthday gift games.
Looks like I'll be clearing out some old big-boxes to make shelf space!