The lure of cheap games has hooked me again…Bon Appetit and Nine Tiles Panic (Oink games are usually pretty good).
Well, I gave it a week, and nobody was taking Sleeping Gods off my friend that is selling to fund his move to Australia. So I am taking it off his hands for 2/3 of the asking price here in NZ for a new one. And I am helping him out for his move to Ozz.
It is amazing how many excuses I can find to buy a game when I want to.
I have most of the V-Commandos-branded games and opted to not go in on any of the update stuff or the Ghost expansion. I'd be interested to hear your impressions of Ghost
Might take me a little while to get to it, but I will be sure to give my thoughts once I get there!
Oops, "accidentally" won an auction. Oh well, about $20 for Magic Maze, Modern Art, and Kero.
Two real-time games that might work as toys for the kids, and a classic auction game I've been meaning to give a try.
Kero's a lot of fun, we like it a lot. Good haul!
I didn't even look it up when I placed a bid for the other two games. Pleasantly surprised to see it might actually be something worth playing.
A Kickstarter arrival has caused me to question my past decisions and ask the difficult question: "What have I done?"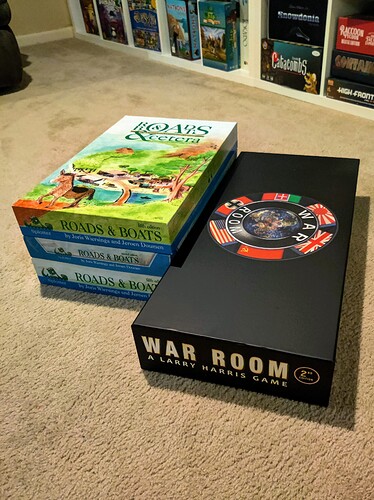 War Room (2nd Edition) has arrived. Shown here next to an ordinary trio of Roads & Boats boxes, the game is unwieldy in its physical manifestation. The FedEx delivery notice indicated that this package weighed 20lbs (~9 kg) and you can definitely feel that while you are bent over, grappling with it and trying to free it from the grasp of the gravity well you didn't recall installing at that particular spot on the floor.
I opted to add on a set of 2 push sticks (because they're push sticks, obviously; officially I guess they are called Command Staves) as well as the dry-erase O&P charts (but not the folios for them).
Flipping through the rulebook, there are some smaller less-than-world war scenarios, which gives me some amount of comfort that perhaps I can get this played in the next couple of years.
You can fit a room with that one
Krieg und Frieden - seen it being played by someone from the OG Guild and it's cheap.
Steam Barons - reason: trains
New England Railways - reason: trains
Tibet - Knizia
I think you can bathe in that box.
Bought some games from Button Shy; Stew, In Vino Morte, and Skulls of Sedlec
BGG says it's 43% of an Ogre! That's huge.
As I mentioned on the crowdfunding line, this thing arrived Friday (ISS Vanguard)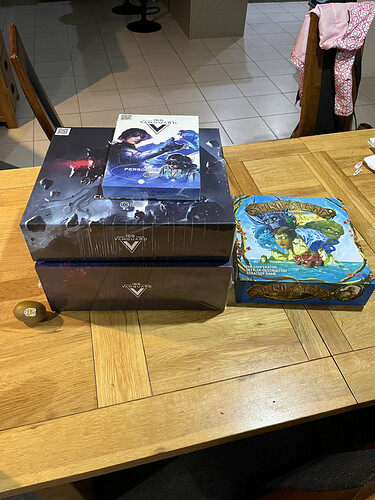 Copy of Spirit Island and kiwi for size comparison.
I uuhhh… bought more games. Oh no. My reduction goal slowed down.
Fresh Fish - I sold this one to @raged_norm , but one of the rare case of rebuying it. I end up enjoying it with more plays lol
Acquire - I own an old copy from the 1970s or something. But this Avalon Hill 1999 edition seems fun.
Stich-Meister - another trick taker "Grail" for me.