This is based on the first season of the show (which I haven't seen), and designed by the classic GF9 triumvirate of Aaron Dill, John Kovaleski and the late Sean Sweigart. It's a semi-coop social-deduction game in which it can be all too easy to find that you've spent too much time on political point-scoring to beat the actual terrorists.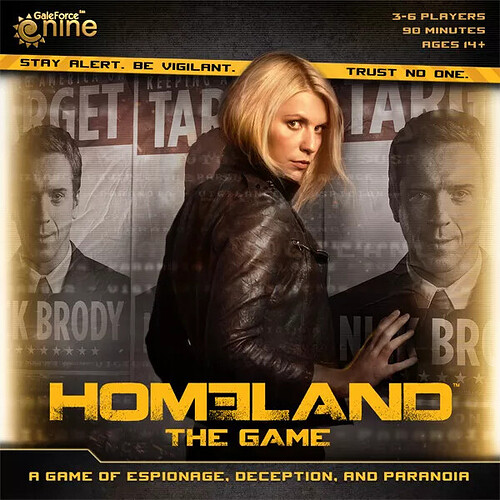 "3-6 players; BGG best at: 5"
official rules from GF9
Roger's rules document (62.5 KB)
Space-Biff review
Players welcome!
Game log

Round 1:

RossM
discard Sleeper -5 for 3 rep
recruit an Asset, discarding Elizabeth Chu
add a soldier to Severe-1 Political Splinter Group, not looking at or adding intel
add an agent to Guarded-1 Political Splinter Group, looking at back of Plot card
claim Low-1 / Radicalized Local Militia and play to it
DJCT
discard Misleading Subterfuge -1 for 1 rep
recruit an asset, discarding Aileen Morgan
claim Severe-1 / Political Splinter Group and play to it
play to Low-1 / Radicalized Local Militia
Assussanni
add an agent to Guarded-1 Political Splinter Group, looking at back of Plot card
recruit an agent
claim Guarded-1 Political Splinter Group and play to it
play to Low-1 / Radicalized Local Militia
Chewy77
Claim Guarded-2 Sectarian Insurgents
Play intel to Guarded-2 Sectarian Insurgents
Play intel to Severe-1 Political Splinter Group
Discard Misleading Subterfuge -1 for 1 Rep
Recruit an agent
Play an agent to Severe-1, and look at the Plot

Round 2:

DJCT
Play a soldier to Imminent-1 Political Splinter Group, viewing intel
Claim Severe-1 Abu Nazir
Play intel to Severe-1 Abu Nazir
Play intel to Elevated-2 Sectarian Insurgents
Recruit a soldier
Assussanni
Play a soldier to Imminent-2 Abu Nazir, look at intel cards
Claim Low-1 Militant Separatists
Play intel to Elevated-1 Political Splinter Group
Play intel to Severe-1 Abu Nazir
Recruit an Agent
Chewy77
Claim Guarded-2 Military Separatists
Play intel to Guarded-2 Military Separatists
Play intel to Imminent-2 Abu Nazir
Recruit a Soldier
Play soldier to Imminent-2 Abu Nazir, not looking at cards
Discard Blown Cover for 2 Rep
RossM
Discard Compromised Intel for 1 Clout, 1 Rep
Spend to recruit an Asset, discarding Virgil
Claim Imminent-2 Abu Nazir
Play a card to Imminent-1 Political Splinter Group
Play a card to Guarded-1 Radicalized Local Militia
Reveal David Estes
Drone Strike Imminent-1 Political Splinter Group and Imminent-2 Abu Nazir

Round 3:

Chewy77
Claim Imminent-2 Religious Extremists
Play intel to Imminent-2 Religious Extremists
Play intel to Guarded-1 Militant Separatists
Discard Dangerous Rabbit Hole for no tokens
Spend to recruit an Asset, discarding Max
Play agent to Severe-2 Sectarian Insurgents
RossM
Recruit an Agent (David Estes makes it 2)
Reveal Carrie Mathison
Play agent to Elevated-1 Radicalized Local Militia (Carrie inspects all intel)
Play intel to Elevated-1 Radicalized Local Militia
Play intel to Imminent-2 Religious Extremists
Discard Misleading Subterfuge for 1 Rep
Claim Guarded-2 Political Splinter Group
DJCT
Claim Elevated-3 General Danesh Akbari
Play intel to Elevated-3 General Danesh Akbari
Play intel to Elevated-2 Militant Separatists
Recruit a Soldier
Assussanni
Claim remaining case Elevated-4 Religious Extremists
Play Intel Elevated-4 Religious Extremists
Play Intel to Imminent-1 Abu Nazir
Discard Intel card (Cooked Intel, -3) for 2 Rep
Deploy an Agent to Elevated-4 Religous Extremists and look at its Plot card
Recruit a Soldier

Round 4:

Assussanni
Claim Imminent-3 case (which I assume we are drone striking),
Assign a Soldier to Imminent-3 (don't look at Intel). @Chewy77 if you could also put a soldier here and call in your drones that would be lovely,
Play Intel to my Severe-4 case,
Play Intel to DJCT's Severe-3 case,
Discard Dangerous Rabbit Hole (-2)
Chewy77
Claim Severe-5 Lone Wolf
place 1 point Intel on Imminent-1 Political Splinter Group
Place 3 point intel under Imminent-2 Sectarian Insurgents
Recruit a soldier
Place a soldier on Imminent-3 Tom Walker
Discard my (0) Authority Rescinded card.
Use Drone Strike on Imminent-3 Tom Walker
RossM
recruit an asset, discarding Mansour al-Zahrani and revealing Lynne Reed.
place agent on Imminent-1 Political Splinter Group
play intel to Imminent-1 Political Splinter Group
claim Guarded-1 Guerrilla Dissidents
play intel to Guarded-1 Guerrilla Dissidents
DJCT
claim Severe-6 Majid Javadi
play intel to Severe-6 Majid Javadi
play intel to Severe-2 Militant Separatists
add soldier to Severe-2 Militant Separatists
recruit a soldier

Round 5:

Chewy77
claim Severe-3 Radicalized Local Militia
play intel to Severe-3 Radicalized Local Militia
play intel to Elevated-1 Guerrilla Dissidents
discard Agent Roster Leak for tokens
recruit a soldier
RossM
Recruit an asset, discarding Scott Ryan
play intel to Imminent-1
play intel to Imminent-2
Discard Suicide Bombing for 1 rep
Claim Guarded-1
DJCT
claim Guarded-2
Play intel to Imminent-2
Play intel to Imminent-6
Place 2 soldiers on Imminent-4
Discard Compromised Intel for 1 clout 1 rep
Assussanni
Recruit an asset, discarding Special Agent Hall
discard Media Attention (-1) for 1 Rep,
claim the remaining case, Low-1,
place an Intel card under Imminent-2,
place an Intel card under Imminent-4. It doesn't matter which goes where, because:
activate Asset: William Walden / Vice President of the United States / 2 VP / Once per Terrorist Turn, you may discard a Soldier to lower the Impact of a Threat by 1 / Drone Strike,
drone strike Imminent-2 and Imminent-4.

Round 6:

DJCT
Claim imminent-4.
Put Interagency Cooperation / (2) / 1 Clout on imminent-4
Put Search Warrant / (2) / 1 Clout on imminent-3
Recruit a soldier.
Place soldier on imminent-2
Assussanni
recruit a soldier
play intel to Imminent-4
claim Elevated-3
play intel to Elevated-3
turn up Elizabeth Gaines
Chewy77
discard Cooked Intel (-3)
recruit an asset (reveal Saul Berenson, discard Judge Jeffery Turner)
claim Guarded-2 Guerrilla Dissidents and play
play intel to Elevated-2 Sectarian Insurgents
deploy 2 soldiers to Imminent-4 Political Splinter Group
RossM
recruit an asset (discard Nicholas Brody)
discard Jihad
deploy soldier to Imminent-2, looking at intel
play to Imminent-2 and Imminent-4
drone strike Imminent-2 and Imminent-4