OK so this could go in the Recent Boardgames thread but I hope you'll permit me to give it a topic of its own.
So last night my partner and I played a very special game of Village (with the Inn) expansion.
I set up the game while she was putting her son to bed, but "accidentally" forgot to put the the "next round first player" marker in its proper place in the council chamber. (Folks who are familiar with the game: you can probably see where this is going.)
So we started playing, and I was studiously avoiding sending my family off to the council chamber. I sent one off to the Inn to gain a favour from the miller. Meanwhile she started off by training one of her family members up in the art of parchment making. "Great," I thought, "she'll be swimming in parchment soon, which is exactly what she needs to advance in the council chamber." Then a new patron emerged at the Inn which gave her two more parchments!
But with my internal monologue screaming "WON'T YOU JUST HURRY UP AND GO TO THE COUNCIL CHAMBER ALREADY" and my rising anxiety about my stepson, who was in on the act and had a role to play in proceedings giving the game away, she decided that she had one or two other things to do first - take a delivery of grain, get a new family member… but eventually, with my own opportunities to ignore the wide open goal of the council chamber becoming increasingly preposterous, she sent someone off to the council chamber to pick up the next-round-first-player marker. Cue a huge such of relief.
Except she hadn't noticed that it was missing. Or rather, she'd noticed, but chose not to say anything.
Pause.
Eventually I spoke. "Oh, the little token's missing."
"Oh, yes, I thought there should have been something there." She later told me that she was still none the wiser at that point.
"It's not in the box." Awkward pause. "Maybe it's outside. In the garden."
"Umm… OK?"
So out I went to "find" this token. For those not in the know, the token in question is a little cardboard representation of an engagement ring. I had hidden a real one out in the garden, along with a bunch of her favourite flowers (tulips, which by now had accumulated a passing snail who must have been very confused when suddenly yanked into the light and the flurry of activity) and a Bluetooth speaker (playing the theme tune to Midnight Diner: Tokyo Stories, a Netflix series which we had been enjoying immensely recently). Her stepson, whose bedroom window overlooks the garden, was waiting with some confetti, party poppers and a foil balloon that said "yay!" that I'd hidden in his room that afternoon.
Anyway, I barely remember what happened next, but my memory reliably informs me that she said yes.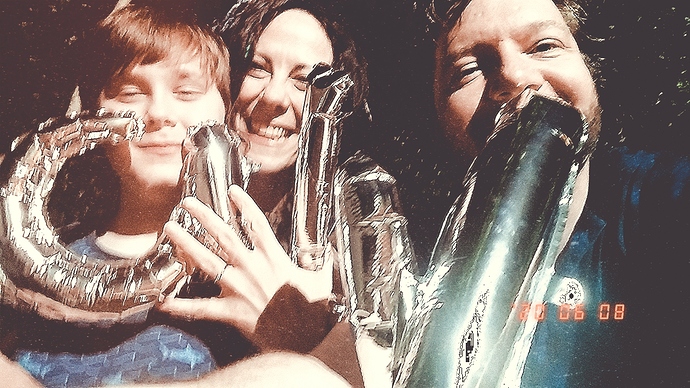 And the game? Well, we left it in the state it was in when the ruse went into action, abandoned in round one. But I'm sure that Inka and Markus Brand, and all the little wooden villagers whose lives were in stasis at that point won't mind. Although "favourite board game" is a notoriously fickle concept, Village has been steadily bobbing around at the top of my list for a while now, and now even more so.
And that's my story.