A weird review. Sort of bounced from iffy to good with this paradoxical we like the breeziness and toy nature and the biggest criticism coming from the scoring.
Seems like an extra complicated wingspan which they disliked because getting good cards was pot luck and the same seems to apply here but it's not so bad for some reason.
Not sure if I'm meant to play this game as a result of this review
I note it didn't get the pear of approval.
In any case, this does not look like a game for me. Looks way too fiddly, and if it's at all like Terraforming Mars as seemed to be implied, that only reinforces that belief.
Matt knows his stuff on design/layout/graphics, and I'm really grateful for that - I just thought "the animals look OK but the humans seem weird for some reason I can't put my finger on".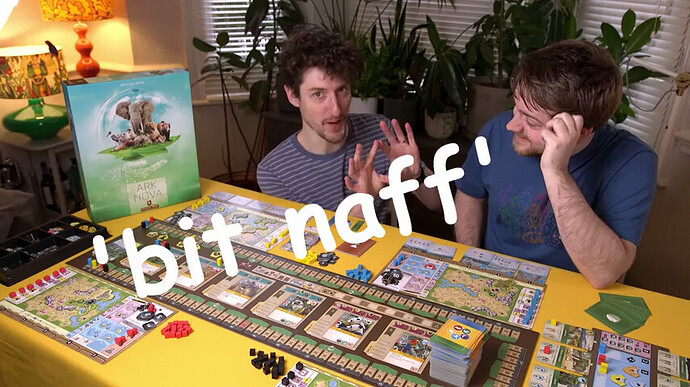 But I'd argue that it is still relevant - this is 2022, and the visual atmosphere of a board game is accepted as part of that game's overall play experience.
The combination of it being reasonably heavy and so reliant on luck is a turn off. If I'm going to have that much going on, it'll be a little hard to take losing on bad card draws. I can't consider a game 'breezy' with that sort of rules overhead.
I liked Ark Nova a lot more than I thought I would. I've gone off heavy euros like this recently but had a solid play of this.
I love the theme. The animal images are great. And there's a coffee cup. The scoring is interesting as well.
There's an open sliding card market, which there is some ability to manipulate. It's not just top decking. I know I never felt I couldn't access the cards I wanted.
From my experience, SUSD are never going to recommend games like this; it's just not their taste. They have so much influence I wonder whether the publisher actually wanted them to review it. It's very much in the Terraforming Mars (which I love) and Underwater Cities (which is pretty good) vein. They didn't rate TM either (no one else on here seems to either!) so I would have been amazed if they had given it a recommend.
I like Terraforming Mars, for the record

Then I'd recommend Ark Nova!
I know my friends will buy Ark Nova. Can't wait to try it once it is in print again sometime soon. I also like Terraforming Mars and so do my friends. Big decks of cards are prone to these swingy moments. Is there a fix for that?
Not all games can be Dreamcrush or Die Knuffies.
I've only played it once so I'm not sure. Between 4 of us we saw a lot of the deck. There's 6? cards in the market all the time, which slides up (bit like Pax Pamir) and refills consistently. You can upgrade to be able to select from higher up.
When we play Terraforming Mars we don't draft; I prefer playing round my cards rather than going for perfection.
I just don't see the cards (and chance associated with them) as a problem in games like this.
Right, I deal with what is in my hand. That's the game.
But complaining about huge decks of cards and "deck milling" is popular. It's also easy to blame luck of the draw… and while sometimes that may be game deciding, it is far less often the case than some people generally want to assume.
Yeah, my wife beats me far too often for it to be chance!
Heh, just before coming back here to read this I'd been making smaller combined decks out of Steampunk Rally + Steampunk Rally Fusion to get the best of both. (My poster child for over-large decks leading to swinginess is Terminator Dark Fate, which otherwise I quite like: a ~150-card market deck means you may never see a gun to go with that nice "extra ammo" card. I think I may chop it in half.)
Absolutely I agree about Dark Fate, it's very easy to see how the big deck causes probability problems. But, for the record, I flipping love Terraforming Mars too. I don't think I'll get any more expansions for it though.
NPI have things to say too:
Efka's comments match very closely with the way I feel about Terraforming Mars too: I've got this card, yay I have a plan to do a thing with this card, oh no the other cards I need to do that thing never showed up. I realise that this is not a huge problem for everyone and clearly, given how successful it's been, it's not a problem for the majority of gamers. So probably I'm doing it wrong.

Nope. That's exactly how I feel about Terraforming Mars. I have only played the app, but I don't see how the physical components would make that any better.
it just sounds like an extra wingspan.
It's interesting to see similar games have this problem when Race for the Galaxy solved it years ago. It makes every card useful and it includes actions (that you can use as much as you like) that let you hunt through the deck for what you need (with versions for lots of cards either kept or looked at).
Even when Roll stops using planets + developments as currency, it keeps the action of searching through them.
I feel like the issue is compounded more in Teraforming Mars than other designs, in that you must spend resources to pay to keep that card, that may end up being dead weight in your hand. That's always been my biggest beef with TfM.