Played it only a couple of times, but I enjoy the compact space game it provides.
I still have a copy - though I play it very rarely.
Have it, love it, also have ICECOOL 2 (which is basically the same but with better player colors)
Have this one as well
Have all of these. And very jealous of Claustrophobia 1643. And curious about SpaceCorp
I liked the theme of SpaceCorp but found the gameplay repetitive.
Ahh, yeah. I think that was my impression of it at a distance.
Completely missed the idea of this thread.
I recently bid on it in an auction. I think I was outbid, though.
I have Shadows Over Camelot: the card game. Anyone got that?
Sorry. Got this

.
I used to have the old version of that called "ravens of sahasri"
I got it back when I had a friend working at Osprey. One of the few games I've actually played solo - works better solo than two-player, I think.
I've got the first book in the series sat waiting to be read (it's fairly low down the list), but not the game.
---
Looking at the stuff I don't really consider as part of "my collection", any takers for …
504
Trivial Pursuit: Master Edition (2009)
Trivial Pursuit: LOTR
Monopoly: LOTR
And I bet no one has this: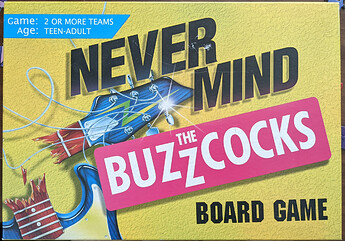 Its not bad but Im told the series gets much better
I have the Shut Up and Sit Down copy used in their film review. Picked it up in a math trade at their convention one year. Have never played it.
I also have several random Monopoly, Munchkin, Uno, and other commonly rethemed and reskinned games but decided not to list all of them.
How about some weird mass market stuff:
Friends Wheel of Mayhem Game
Friends: The One With The Ball
Got it. And expansions.
This too.
Everything except the 1st KS exclusives.
Multiple editions and all the Kolossal expansions.
I can't disagree with you there. Gameplay is nothing to write home about, but I know no other game that depicts this scale of space exploration.
Well, I'm certainly playing Mind Boggle right now.
thanks only saw the reference now. I've been wobbling between this, Space Empires 4x, Eclipse and just waiting for my Voidfall pledge to arrive