@benkyo and I are interested on a game of the Great Zimbabwe. Async as usual. The implementation in boardgamecore.com is pretty good after playing with friends, so we'll be using that. In comparison to Antiquity and FCM, this one is relatively lighter and relatively more forgiving - this is still a Splotter, so it still has bite.
Rules are over here: BoardGameGeek
THE BASICS:
To win: you need to accumulate points. Each player has their own VR (victory requirement). This increases as they take more perks and bonuses.
Phase 1 of the game is turn order bidding. TGZ is different in its bidding where every bid is an instant payment. Say, I bid 5 cattle. I immediately pay 5. Ben will bid 6, same story. And in my turn to bid, if I bid 7, I will pay again by paying 7 cattle - 12 cattle in total.
Phase 1 payments will be shared equally throughout the community, as to demonstrate one's power. So, if I paid 12 and Ben paid 6 (18 total), those will be equally distributed among ALL players. Distribution order will be based on the highest VR to lowest. On a 5 player game with 18 cattle, we get 3 cattle each equally, and the remaining 3 will go to the 3 players with the highest VR.
Phase 2 is the action phase. There are 3 actions
Take a god or specialist (not both). You can only have 1 god in a game. You can only take 1 specialist in a round. You can only do this action once per round.
Use your specialists
EITHER place a craftsman / build a new monument / upgrade your existing monuments
Taking a god, technology and specialists increases your VR
You cannot go above 40 VR - this means you cannot take a god/specialist if it makes you go above 40
Buying tech allows you to build certain craftsmen. Only players with X tech can build X craftsmen.
Craftsmen is how you can upgrade your monuments. M1 to M2 will need just one type of craft. M3 will need 2 different types, etc.
You can upgrade as many of your own monuments, if possible.
Craftsmen need to be within 3 spaces from their resources and also within 3 spaces to monuments. Diagonal movement is legal.
Lakes are considered ONE space. Travelling via water is easier than travelling via land.
The logistics chain goes like this: resource >> craftsman >> monument.
Once a secondary craftsman is built, the above chain is illegal (but only for that type). The new chain MUST be like this: resource >> primary craftsman >> secondary craftsman >> monument. The other types still follows the above.
Resources can only be used once. Once used, they are exhausted for that round. Turn order is crucial here.
Any craftsmen must be paid every time their services are used by any player.
The price of their service is set by the player who built it: prices are: 1, 2, or 3 cattle. The player can increase the price BUT not decrease it.
The player who built them gets all the money paid to them at the end of the round.
Phase 3 is end of the round income, which is your highest monument. E.g. I have an M1, and an M3. I get 3 cattle.
Phase 4 is VR check. See if anyone is equal or higher. Ties is who overshoots their VR. 2nd tiebreaker is the higher score in total. 3rd tiebreaker is turn order.
Monument scoring: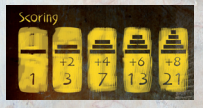 I believe that is the basics.