"The other cardboard tiers":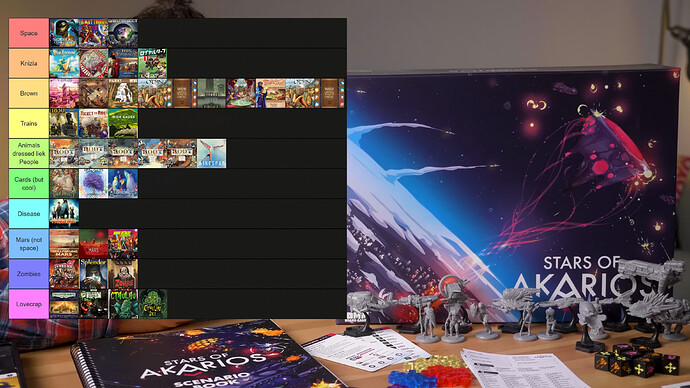 (I would have argued for "beige" rather than "brown", but one could certainly do worse.)
"A big ugly mesh of unsavoury-looking hexagons"
I could see the combat element of this working for a player vs player wargame. Not convinced that any card-driven enemy AI can be interesting enough to keep it, well, interesting.
I've never been a great fan of the video game hunger mechanic, or other timers that try to give a sense of urgency; if the world is interesting I want to tourist in it, to try out various options…
Depends on the genre. For traditional roguelikes, it is an effective way to make optimal play more interesting - for example, if endless kiting is the safest way to play, but also boring, a food clock means you have to employ less boring tactics, which is good. There's a good article somewhere that I think called it designing around the "tyranny of optimal play", but I can't find it.
I think pressure is a really good idea sometimes. In videogames like deus ex or system shock which reward exploration by giving you fun bits of lore hidden in various corners they actively discourage the role play of doing the mission.
Spelunky doesn't have hunger but it does have a dangerous ghost that will attack you if you dawdle. Nicely if you're skilled enough you can avoid it but generally speaking it's a kick up the bum to move on to the next layer.
I think the pressure gets you closer to the feeling of getting down to business.
Wait. Why is Splendor in the Zombie tier?