Indeed. I completely understand and support this decision, but it really hurts as this is the last year I live somewhat close to Essen. It took only a 90min train ride to get to Essen, which was really convenient. Next year it's going to be a 1000km drive which is an entirely different endeavor.
Well, I'm in the UK, so I was working on the basis that next year it won't be affordable. Still, I shall try.
I expected this. And I am glad they announced it this early. For myself, I am not that sad. Since last Essen I bought SO many games and backed quite a few Kickstarters that I couldn't afford my usual Essen buying spree anyway.
Actually, is SHUX'20 likely to happen at all??
I would not be surprised if it is cancelled, possibly giving people the option to roll their tickets over to next year to avoid refund hassles.
Some of you may be interested to read how spiel.digital is progressing.
I just got the latest newsletter and apparently entry to the virtual fair is going to be free.
It's on October 22nd through 25th.
Spiel.digital started 5 minutes ago. Website is having a bit of trouble

Who would have thought that people will line up at the digital gates (bad gateway) just like they do every Spiel Thursday…
edit: 30 minutes later it appears to work now

(like World of Warcraft on release day though)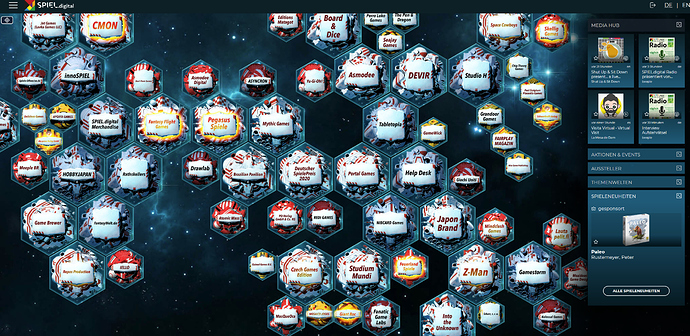 edit: I shouldn't be surpised that this year so very few of the games presented at Spiel can actually be bought at this point. How could I have expected otherwise? Almost everything I'd normally be looking to buy at SPIEL is …coming soon. 2020 never disappoints…

What did you think of it? I visited on Saturday, jumped around about 4 different discord servers looking for publishers to demo games, and played 3. It seemed really quiet, and chatting to people I got the impression a number of publishers didn't feel it worth the money (not that I know how much it cost).
I just wasn't able to make much time. Shows how important it is to have a few days off to be away from daily life to enjoy the fair.
We did get the tabletopia code and I hope to find some time to play a few games there.
At Essen in person I do manage to sit down and game with strangers–but it is not easy for me.
And despite me having some experience in online gaming with people I've never met, I have a hard time playing boardgames with random people online.
On Saturday we had some time together and I showed my partner all the games I had previously decided I was interested in (via BGG, as I do before the fair every year) I was disappointed that I couldn't buy any of the games. And for every game we looked at I had to also open it in a separate window in BGG so I could show my partner what it was about.
I applaud the effort but it's just not the same thing. And it became obvious quickly, lacking a hard deadline to finish their games, most games weren't really available. Not even in the small numbers that publishers usually bring to the fair. What makes the physical thing so great is, I sit down, find someone to explain the game, play it and then sometimes shop it. Admittedly it is the getting home with a haul of games is part of the fun–although this year I had so many of the highlights already on preorder via KS, I am a little bit glad I didn't spend another X hundred euros at the fair. This year would likely have been a different experience for me in any case.
Grumbling the publishers may be, but I am under the impression that at least the German boardgame industry has been doing very well for itself this year. Several of the big name publishers here still print locally and so they had less supply chain issues than everyone using Panda printing…
Anyway, online / virtual boardgames are nice but they are really no replacement for a hobby that shines normally by its absence of all the technology. As someone who spends most of their professional life in front of a computer and has several other hobbies demanding screen time… having boardgames take me away from that is important. And I think I am not the only one who feels this way and this is probably the reason that these virtual cons/fairs cannot elicit the same excitement.
I poked about the site a little but, yeah. I think the Essen experience for me is all of:
Trying games
Buying games
Chatting with old friends and new ones
Demoing games to other people
Eating and drinking things ending in -wurst and -bier
Wandering around the halls and looking at things I would never see if I were just teleporting direct to Publisher X or Game Y
a multi-hour drive across England and France and Belgium and the Netherlands and Germany
most of which weren't on offer (the publishers I've worked with before weren't doing demos at all). And dammit, in spite of expected huge costs, I will go next year if there is any possibility of getting there.
(The only virtual con that's felt at all like a real one for me was YSDC's Convocation, very much helped by the site owner doing live streams…)
Absolutely, I meet up with people I don't see at all outside the fair.
Last year I reconnected with someone from uni.
This year maybe I'd have met whoever from this community decided to brave the distance.
It's eating weird food, snacks, the whole loud crazy atmosphere, browsing the second hand sellers for that elusive copy of that one game I am hunting that year.
Last year for the first time I went on a Thursday by taking a train from home around 5 am and spending two weeks training myself to get up early.
On Saturdays we never got to the fair but visit the Ruhrgebiet cultural sites like Unesco World Heritage site Zollverein. And we visit that one Heimwerkermarkt that has a very exclusive whisky shop in the basement and my partner spends nearly as much money there as I do at the fair.
The fair is an event like no other and one is immersed in gaming to such an extent it's like bathing in meeples…
I miss people this year. Obviously. But I get to talk to my friends and family and meet them even if it is under complicated circumstances. What I miss without any kind of replacement is traveling, festivals & concerts and SPIEL.
As for Spiel not happening, people are still buying games like crazy. It's wild. I check for new games coming in at my favorite online shop like every day because I didn't want to miss when they had the things I wanted. I fixed this by preordering the stuff I don't want to wait for longer than necessary the other day. But checking for new games is a hard habit to break at this point.
So I've been noticing since the Spiel releases have been coming in they sell out within hours! In the morning the game is available and by the time people get off work it's on backorder. I am reasonably sure that this is not the only shop this is happening to.
I heard it said–don't remember–that many of the streamers and podcasters and youtubers who were doing something SPIEL were just doing their usual thing and labeling it SPIEL. This may be true for the international crowd.
Last night, we got some actual Essen feels when we watched a group of German streamers congregate via zoom (I think?) on one of their channels, including two guys from Spiele Offensive and talking about the new games and everything that was going on. It was much more interesting and fun than I thought it would be. They also talked about the Spiele Offensive because they are involved in both a shop and in several smaller publishers and running the Spieleschmiede (German game specific kickstarter mostly for finding out if there is enough interest to translate international games). (They also lend out games though I haven't tried that)
It was interesting they said that the online shop was running just like in any other year and sales were just as typical of Spiel as last year. But on the publisher side there was a notable difference. Especially since their big game was supposed to have been The Perfect Moment which is about photography and they were unable to figure out an online demo version of that…
So people are buying games but all the unusual ones that are not good for online presentation… were a bit meh.
Also, the Spiele Offensive guys had figured out a way to hand out promos to people via Twitch Channel points. They had made their channel for a previous online event and it seems to me that it was a great success.
What I also noticed once again how singularly white male the presentation (lots of women play games, they just aren't the public faces we see) of the hobby is in Germany (not that international is that much better). It doesn't keep me from enjoying games or anything else at this point but I care and I wish it was different. I am tempted to buy games from female designers just BECAUSE.