With the move finally "around the corner" (exactly a month from now is the planned date), I have started to pack some games into boxes, have even moved a couple of the boxes with the games I would least miss to the house.
So the stack of games littering my living room has shrunk (I have some shelves but the collection has not been "contained" for years now, even when I was almost down to 200, I didn't have enough shelf space).
Now the stack of games in the living room seems to represent the games I felt like I wanted to have "on hand" until the last week or so: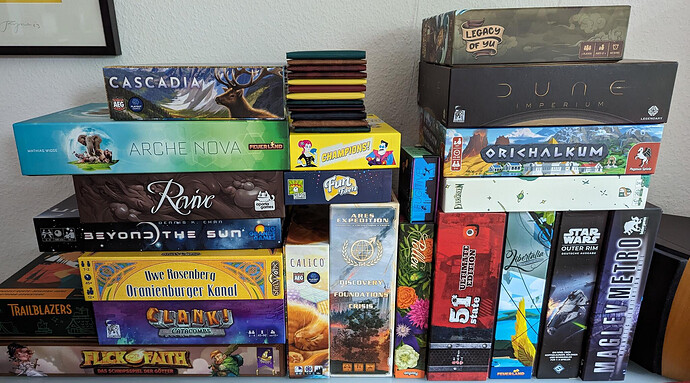 Off to the side is Spirit Island which to tell the truth I haven't been relaxed enough to play this year. Due to the wooden box it is not easily packable in any case, as are a few other "loiterers" that shall remain unpictured.
Most of the games in the picture are there so I can play them solo. Flick of Faith has a stupid non-standard format that I won't be able to store anywhere. I haven't had a chance to learn Pollen yet. The 2 party games are new and it is good to have some on hand just in case.
In any case this seems like a not bad cross-section of my collection—organically grown when I selected which games to pack up

Which games are on your ready stacks/want to play lists? Or are your collections so small they are the stack? Or do you have such nice shelving, you can access all your games in O(1)?