I bottled last year's batch of my rum-based cumquat liqueur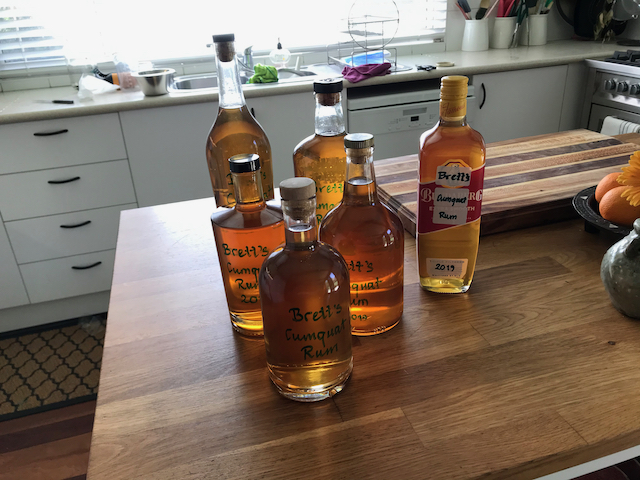 And laid down a few litres for next year.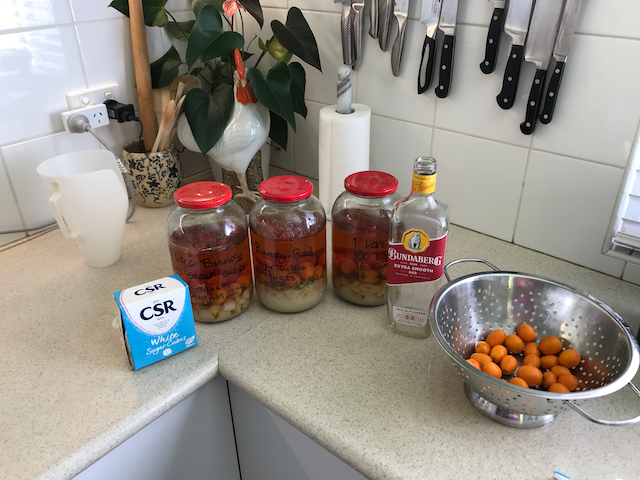 The recipe is that you put 100 sugar cubes (450g of loaf sugar) in a pickle jar with 1 litre of sippable rum and 16 nice ripe cumquats with completely intact skins (including the little green thing where you cut the stem with scissors) having no holes or defects in them. Screw the lids on tightly and put them in a dark place with a steady temperature (ideally not above 25C). And then leave them alone for a year. Do not shake, do not stir; leave the layers undisturbed for a year.
At first the fruit will sink in the liquor. Spirit will diffuse in through the intact skins by osmosis. Then the sugar will gradually dissolve, producing a dense syrup. The fruit will float at the interface between the spirit and the syrup, rising gradually to the surface of the liquid. Then they will be forced into the syrup, where osmosis will draw the spirit back out of the fruit, extracting flavour from the zest. The fruit will shrivel like raisins and sink to the bottom of the jar. When they return to the bottom the liqueur is done.
Yes, it matters that you use sugar cubes rather than granulated sugar: they dissolve more slowly.
You can make it with other spirits: the original recipe was with brandy.
You can use other citrus fruit, but

I didn't like the results when I experimented with lemon and with lime, and
if you use a fruit that floats in the spirit at the beginning (because of air in the pith), such as a Seville orange, contrive some way of keeping it completely submerged below the top surface, or else it will get moldy.