Hi I am new, and can't DM RogerBW

Welcome to the community, hemi. If you click on his avatar it should be straight forward by clicking on the message icon. If not I will tag him @RogerBW so he can contact you.
Welcome to the forums, @hemi! I have changed your membership level and you should now be able to direct message RogerBW your nominations.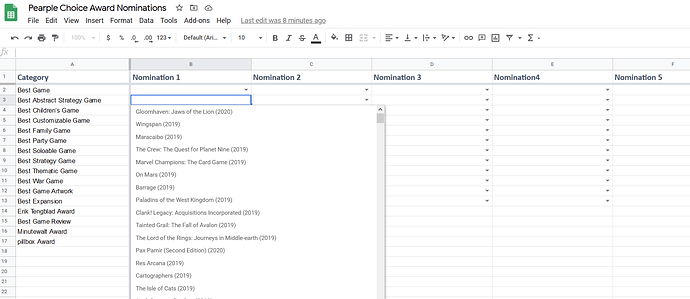 To make the nomination process a little easier on both Roger who is writing code to make sure the nominations are counted correctly and on us, I have created a Google Sheet that you can use to fill out your nominations.
I want to note that you do not have to use this!
It is just an offer to help you format your nominations in a way that are easy for Roger to process.
To use it, you need to copy the sheet into your own account, where you should be able to edit at will.
It includes a list of 2019-2020 published games and expansions (extracted from BGG, search criteria being published in 2019-2020 and having 100 ratings so some games that aren't quite published yet are not in the list).
To input a game just start typing the title, the dropbox will shrink to matching titles!
If you cannot find a game, don't hesitate to add it to the list.
For awards that are either not for games (reviews) or have a much larger eligibility pool, you will have to type out your own choices.
Once you have filled out all your choices download the document as "Tab Separated Values" from the File > Download Menu: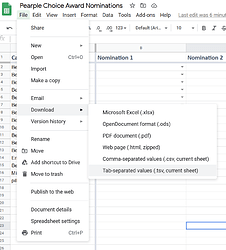 This will end up in your download folder and that file you can then send to @RogerBW as a PM.
If you have any questions regarding the document/sheet please ask away and I will do my best to answer them or improve the sheet as needed.
edit: there is no category verification in there by the way, you need to make sure you nominate games for eligible categories (maybe next year we can be fancy)
Just joined and excited to vote, its not letting me DM you so hopefully that can be fixed in the next week and i can message. thanks
Hi, welcome
I believe you need to be at a basic trust level to DM usually, but @pillbox @yashima or @RossM should be able to sort it I believe.
Hi @Dominus, you can now PM. And welcome!
What if a game is listed in two subdomains, can you nominated in two different categories? If I remember correctly, this was somewhat an issue in the bgg awards.
Yes, but the two "category" awards that it's listed under. (Best game, and Best Soloable Game, are special cases.) So Wingspan for example is Family, Strategy, and Soloable, but not any of the other categories.
Hi Roger, Alas I can't message you since I joined just now to be able to participate in the Pearple's Choice. Great that you're organising this so the voice of the pearple may be heard.

Best game of 2019-2020: Forgotten Waters

Family: Horrified, Rolling Ranch, Silver & gold, Cartographers
Party: Wavelenght, Monikers: Serious nonsense
Soloable: Cartographers, Horrified
Strategy: Unmatched Volume one, The Crew
Thematic: Forgotten Waters, Horrified
Best game artwork: Unmatched Volume one
Best expansion (BGG pub year is 2019-2020; Monikers: Serious nonsense
Erik Tengblad award: Dungeon Mayhem
Best game review: Bunny Kingdom SUSD
Minutewalt award for 2020: Best socially distanced game: Cartographers, Rolling Ranch , On Tour (2nd ed), Patchwork doodle, Imperial settlers roll & write.
pillbox award for 2020: Forgotten Waters
Thanks @Evalien! Welcome to the forum. (You can now pm!)
Welcome to the site, Evalien!
(it appears RossM beat me to the punch on giving you the necessary permissions to send a PM!)
While you are welcome to pop in here just to submit your nominations, we do hope you'll take a minute to look around and perhaps find a thread/topic that interests you (or maybe even start a new one!)
Thank you! Still finding my way here.

Thank you! I'll certainly have a look around!
Until now i'd stuck to the SUSD website and BGG, being part of the pearple lured me over here.

A reminder: we are now in the final week of nominations. I have received 27. The deadline for nominations is 2020-12-14T09:00:00Z (and ideally leave a bit of spare time in case I have to ask you for clarification, e.g. "which Unmatched set do you want to nominate for this particular award").
That was mine!
Just in case anyone was wondering…