In their episode about the James Bond 007 RPG the presenters of the Grognard Files podcast lamented that in their mis-spent youth they gave James Bond 007 a miss, where they now see that it is a brilliant game design and would have ideally suited their gaming needs that the time. The reason for that mistake was that they supposed, judging it by its cover, that it was another in the rash of games then current that were designed for the players to play a particular character established in other media (Indiana Jones RPG, Doctor Who RPG…). That mode, they correctly assessed, was rubbish. But actually, James Bond 007 turns out to be not like that.
The game that I similarly misjudged by its cover, back in the day, was DragonQuest. My brief fling with dungeoncrawling was over. I was avid for an RPG that would support adventures rather than combat. I saw this: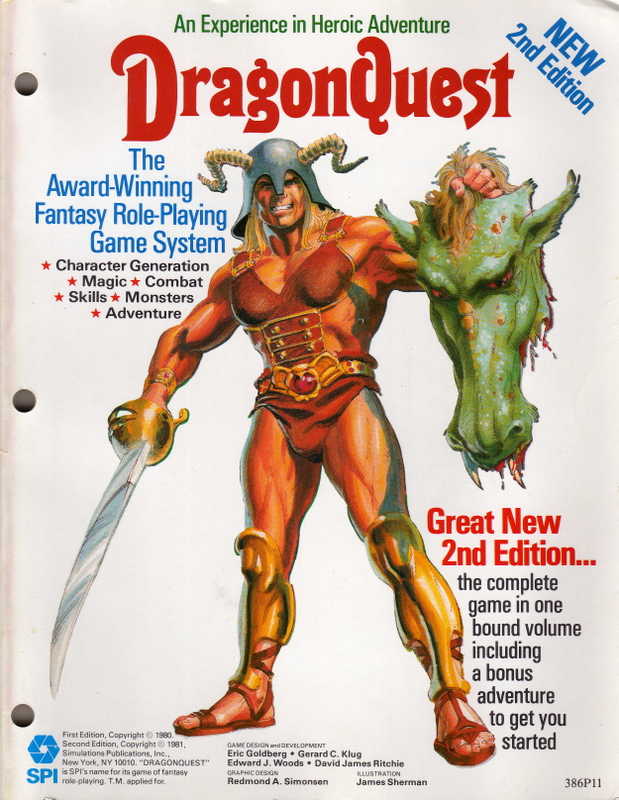 And I decided that I was not in the target audience for a game that marketed itself with blatant wish-fulfilment fantasy and a vision of "heroic adventure" in which meaty nudists with vapid grins kill dragons in hand-to-hand combat.
And that was a great shame, because I missed out on an excellent game.
What games did you judge by their covers, if any?