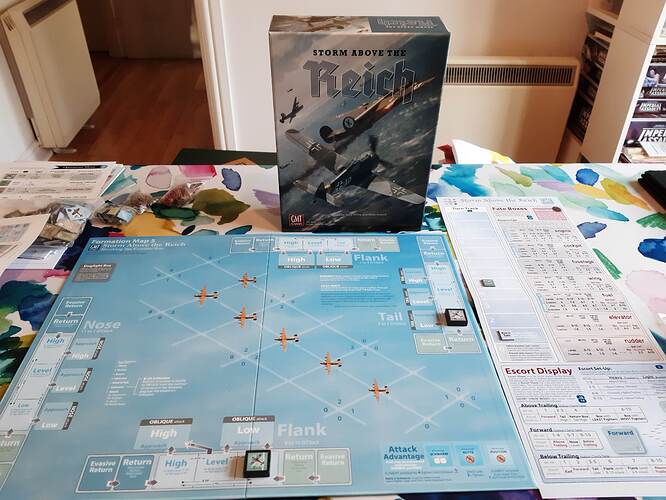 Storm Above the Reich is a solitaire game published by GMT Games that puts you in command of an oversized Luftwaffe squadron (a Staffel) of Focke-Wulf Fw190s from early 1943 to 1945, struggling to deter the daylight bombing raids over Germany. Each mission requires you to respond to an oncoming wave of B-24 Liberator heavy bombers that fly in mutually supportive formations, which slowly evolve over time into what was known as the 'combat box'. You have a limited pool of operation points for each mission to select aircraft, including auxiliaries and allies, and have a limited number of turns to damage and destroy as many bombers as possible whilst trying to keep your pilots alive as they challenge the formation escorts and brave the defensive fire of the bomber formation.
The game is built around a campaign system that strings missions together, with options of short, medium and long campaigns based on a number of seasons that follow the progression of the war. I've jumped into a short campaign, starting in early 1943 and based in the Mediterranean theatre. The season is only 6 missions long, and success is based on the cumulative number of bombers knocked out over those missions, balanced against retaining a pool of active pilots.
I thought I would keep a record of how my campaign progresses for anyone interested in following along, likely with very intermittent entries based on how frequently I seem to get games onto the table these days.
(Here's the link to the game page on GMT Games if anyone is interested.)