Here are examples of a star system data sheet and a world data sheet for a world in Flat Black. Are they nice to have. Ought they to be omitted? Simplified?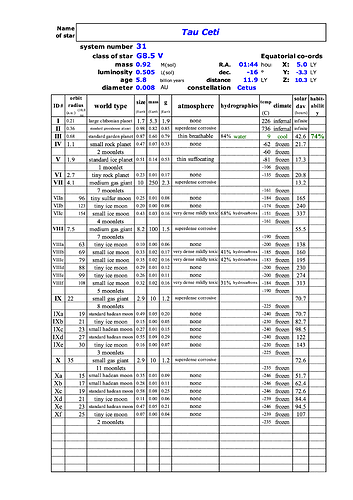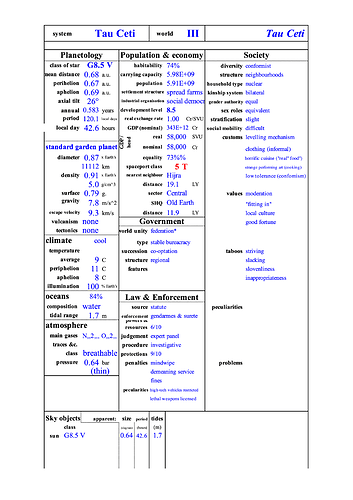 A lot of the time that answers are "mostly not, but sometimes".
The moons of the gas giants usually don't matter, but sometimes object VIIa is a sulphur moon, which suggests valuable chalcophile minerals, space mining, a local space industry or conflict with the Empire over mining rights and space access. Sometimes there's an ocean world that could be being terraformed. Sometimes there's a second garden world.
But honestly the system sheet is mostly there because always since I was using ForeSight, and still now that I'm using GURPS Space the system sheet has been produced in the process of generating the system, so it costs nothing to show it. I think that some players are reassured by seeing it, that it gives and impression that the information that would be there for their characters to look at is actually there. But I can't say that I've ever asked. Showing the system record is mostly just a habit, I think.
The name of the star, and the world's systematic identifier (e.g. "Tau Ceti III") don't actually matter, but I really think they need to be there for verisimilitude. It's like an NPC not knowing his own name — a painful hit to the suspension-of-disbelief if the information is not to hand.
Spectral class of the star, its luminosity, and the planet's orbital radius. Hmm. It's really just one of those things that everyone would know. It would certainly be in an in-setting document, so its presence contributes to verisimilitude. I guess it could be cut. Am I right to be reluctant?
The axial tilt (obliquity, dammit!) provides an important hint to seasonality, and it is something that I always consider when I am going to set an adventure on a planet. It informs a lot of my descriptions of architecture, clothing, and the countryside. It makes me think that I might set an adventure in winter or in summer, and gives me ideas about what that might be like.
The year length. It's like an NPC's name. It's just something that everyone would know, that a GM shouldn't need two minutes and a calculator to answer the question about.
Length of the local day. Yes, it's usually 18–24 hours and doesn't make a lot of difference. But PCs often ask "how long to nightfall?", "how long until light?" for planning tactics. And a very long day like Tau Ceti's or an unusually short one sometimes drives significant cultural detail that will determine, for instance, NPCs' schedules and whereabouts.
World type. It's nearly always "standard garden planet". Very rarely "standard garden moon" or "large garden planet", and when it is, that's always apparent elsewhere on the sheet. I guess it could go.
Diameter. (a) It seems like the sort of thing everyone would know about and document. I can't imagine it being left out of an in-universe document. It gives players a bit of context for the population numbers. I sometimes (rarely, I admit) take note of it to describe the horizon as being distant or close, and to estimate whether the planet will be windy. I don't know about anyone else: I'd just feel stupid not knowing whether the adventure were on a large world or a small one.
Density. Not necessary when the diameter and surface gravity are giving. Some players I have known to guess that high density means mineral wealth and low density means mineral poverty. But I could cut this entry.
Surface gravity This actually is mechanically significant in both ForeSight and GURPS, and in ForeSight it can make a big difference to several important adventuring and combat skills, including Athletics and Mêlée Combat. It influences my descriptions, including my descriptions of architecture and engineering works. It is economically significant because of its effects on the shuttles needed for off-world trade. And I just can't imagine not knowing.
Escape velocity I did without this for decades. I was fudging. Obviously I could manage again.
Period of low orbit Hang on. What happened to period of low orbit? I was sure I had put that in. Again, I could manage without it by assuming that launch windows and drop windows for backup always recurr every ninety minutes, that an orbiting ship or satellite ist always below the horizon for eighty minutes or so.
Vulcanism and tectonic activity. I use them to get an idea of whether there is mountainous or low relief, whether soils are fertile or poor. But I did without them when I was using ForeSight and could again.
Climate I could do without the "climate" category descriptor, but the surface temperature descriptors matter to me. They let me know whether to place habitation at the equator and describe icecaps or at the poles and describe deserts. That's a pervasive influence on culture. I did without perihelion and aphelion extreme values, but that was before i had to contend with the large eccentricity values that GURPS Space assigns planets.
Ocean coverage. Again, I can't imagine describing a planet and not mentioning this. Besides, it makes an important contribution to the context of population and prpulation density figures, and informs me whether to think of deserts or farmland. It's always water, though. I guess the composition can be cut. Tidal range. I like knowing whether to describe large tides or none.
Atmosphere. Well, the main gases are always N2, O2. Except in the rare cases when there's He as well. I guess it can go. And *class is always breatheable except in cases when it is marginal. But I want to put "tainted" "oxy-toxic" and "narcotic" description in here in future.
Sky objects, their periods, apparent sizes, and tidal components. People were pleased when I added these, though I understand that it doesn't actually matter how the moons look.