I've mentioned ForeSight a number of times, as my favourite RPG and as the native RPG of my setting Flat Black, but since it is very obscure I reckon that my mentions must have left most of you scratching your heads. So I suppose I had better put up a bit of a description and explanation. Here goes!
History
The way I understand it is that Tonio Loewald was very keen on SPI's SF RPG Universe, but lamented it lacked a setting. So he designed one for it, but before he finished SPI exploded in a convincing demonstration that a group of gamer buddies does not make an effective management team for a company. TSR ended up with the properties, and was not interested in Tonio's setting, so he designed his own SF RPG to support his setting. He went on to publish ForeSight (the game) in 1987, ForeScene: the Flawed Utopia (the setting) in 1988, and (seeing that the people who had bought ForeSight were using it as a general-purpose RPG) a fantasy and low-tech supplement (HindSight & the Age of 'Reason') also in 1988.
ForeSight sold out its initial print run of 500 copies, nearly all by sales at gaming stores in Australia and New Zealand. Without the backing of a distributor it took nearly two years to do so, and was not financially exciting. It has not been re-printed. Tonio brought out a much simpler and cheaper stapled edition in 1990, which he inaccurately called "ForeSight Enhanced": I say "inaccurately" because in fact it was ForeSight considerably diminished. It did not sell out. Every now and again he stirs toward re-publishing ForeSight, but always intends to completely re-write and re-design it, so that the current draft (available from the ForeSight page at Loewald New Media is a radically simpler and less complete game with almost nothing surviving from the 1986 edition except the name.
Physical format
ForeSight first edition consist of 124 page of A4 plain paper perfect-bound into a cover of light stock card. I have found this binding amazingly robust. I covered my original copy in self-adhesive acetate film and then abused it like hell for twenty years. Not so much as a single page was even thinking of coming loose when I had the binding sliced off and the pages fed through a scanner. (There was also a very small number of copies bound in cloth-covered hard covers. All are still in the hands of the original owners except mine, which were stolen at a games con.) Owing to an error at the printers the paper is an ugly buff colour.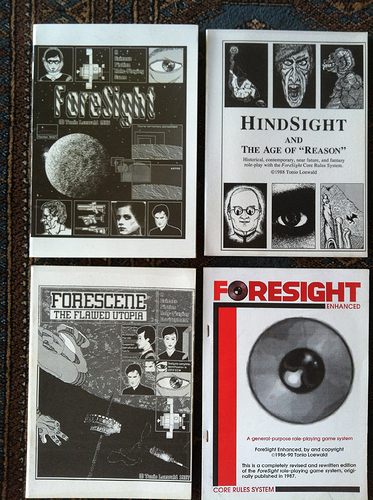 Layout is clean, there is an adequate scattering of graphical elements (illustrations, pictures, forms etc.) to break up the wall of text. The offset printing is adequately sharp, but in my middle age I am starting to find the type tinier than I prefer. (Body text is set in Geneva, about 50 characters across a 77mm column.)