I have owned very few of Friedemann Friese's games but played a number of them. I saw Faiyum in the BGG September/October preview and I liked the cover.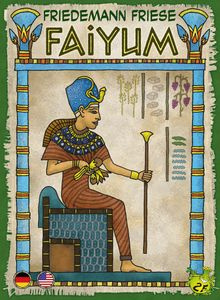 There isn't much information or images but there is both an English and a German rulebook and card glossary. I scanned the rulebook and the post FF made about the game on his BGG blog.
Ignoring the beige/papyrus? artwork, it looks quite interesting. There's a board of hex fields where you get to build cities and roads and harvest resources from fields using your "deck" which you acquire from a Power Grid style market where the cards get ordered by numbers. The interesting point about your deck is you never get to pick up your deck again, instead you can recover cards in order of last played first out, so like in Aeon's End you would have to be aware in which order you play the cards. The cities and roads and workers that are built do not belong to any one player (I think that's why he mentions Roads & Boats which I haven't played in his blogpost) and everyone can use them.
Obviously, from just a rulebook and a bunch of cards I cannot tell how much fun this will be and not all FF games are good (504 & Fürstenfeld, I am looking at you.) but I'll be waiting for actual reviews to come in and hope this fulfills the potential I see here.