Plymouth, the Minas Tirith of the UK.
SW London for me, but Roger already knows that. Do myself and @lalunaverde have some weird weighting effect on the calculation by both being in SW London? That would be handy for me

Of course in actually getting to a place, London and surrounds is often easier and quicker than places nominally closer.
I think it does. It's harder for someone to go westwards from London if you're in East London, until the Liz Line opened, at least.
It is a funny one how London is a main hub in the UK, but how it can separate you from the other side of the country. In 16 years living in the UK, I was always North or West of it, which made going to Kent way less attractive (I only went once). That M25, Crowley did a devilish work there, big time.
So did I! Small world, innit?
What part? San Diego here.
Woodland Hills, which is a suburb in the San Fernando Valley, close to Northridge for those who remember the massive earthquake in '94 there.
OK, based on people who've given locations here: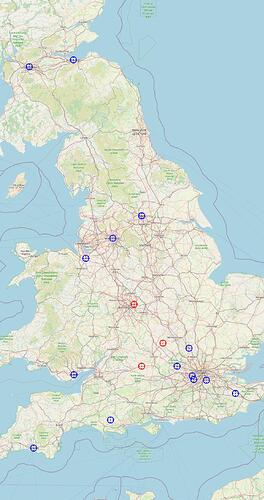 Blue circles are us, red circles are centroids: from north to south, the true centroid (minimising sum of squared distances), the geometric median (minimising sum of distances), and the median centre (dividing people into quadrants and taking the centre of that). That actually suggests that near my place NW of London isn't a terrible option by this measure. (It only accounts for distance, of course, not travel time; otherwise it would probably settle at once on Birmingham or London, which is why running something there is so expensive.)
North America, less usefully:


North to south centroids: geometric median, true centroid, median centre.
A boat in the middle of Lake Erie it is
Take some chip theory games I guess!
Add Portland, Oregon to pull that a bit more west.

I think if we had some more data points, that North American center would drift significantly west and somewhat south.
I say that knowing that I'm about 200 miles from the Population Center of the US, the Geographic Center of the contiguous US, and likely very close to the population center of North America (which is a surprisingly hard thing to find; still looking)
I'm in Cambridge. BUT WHICH ONE?! The one in Massachusetts.
Just move that Birmingham one slightly eastward and it would be really convenient for me
I'm in Gatineau, Quebec, Canada. That's about 2 hours away from Montreal and a literal stone's throw away from Ottawa, depending on where you throw from (and, admitredly, the strength of your throwing arm).
PARTY IN AKRON!
Though I'm still on the houseboat(s) idea.
Oh man I would have just lived at Magic Mountain if I grew up there. As it was, we did an annual trip and spammed the front row of Viper (I hear it's gone!!??!?!!)