@EnterTheWyvern, @mr.ister, @lalunaverde, @pillbox, and anyone else who is interested in the game.
The Vassal module is coming along nicely, but I'm getting to the point of some finicky UI issues, and I'd love to have some opinions to direct my work.
First, some screenshots so you can see where I'm at: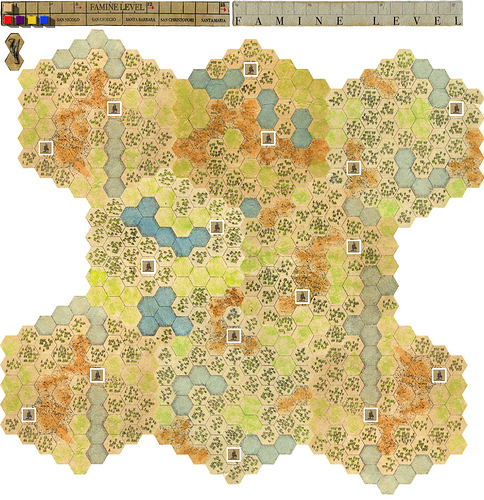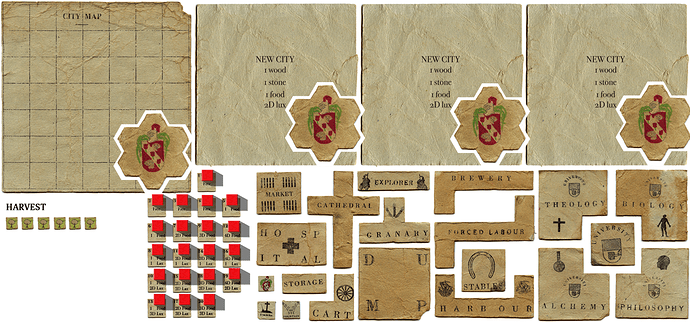 These are the two windows you'll be looking at most. (Got to give props to that Splotter aesthetic: deliberately making your game look misprinted with saturation errors, with battered cardboard art, is pretty ballsy.)
On the main map, you can drag and drop men, but mostly you right-click then select "place wood" or "harvest" or the like to get things done. Only men and cities actually need to be manually dragged.
On the player board, everything is drag and drop and rotate.
So, first question is, how to store resources?
At the moment, "harvest" will look for an empty spot in the harvest area (invisibly assigned values from 0-15), and send the token there. I'm also thinking of adding a "storage" area below the harvest area in which there will be space for 10 piles of counters, with a numerical counter next to each pile to show how many resources are in it. I can't just make 0-39 harvest locations, because believe it or not, calculating which of 40 locations are empty to send a piece to breaks Vassal(!) I like having the harvested tokens laid out though - it makes them more accessible than in stacks.
Is a division between harvest and storage useful? Are piles better than splayed out tokens? Note that tokens in a pile have to be removed from the pile before they can be "discarded". Also note that storing resources "on" storage buildings doesn't really work, because Christofori gets overloaded, and Barbara makes moving them around a pain.
Another question is, should I randomly assign starting tiles to players? According to the rules, the last player chooses to place their city on any of the starting tiles, the second-last player chooses from what is left, etc. Boardgamecore not only randomly assigns starting tiles but also has players choose their city position without being able to see other players' starting tiles.
I could assign tiles, but make it clear players are not stuck with those assignments, or I could stick to the rules and just leave initial cities on the player boards as illustrated above.
The last major UI wrinkle is the city build phase, which is simultaneous and hidden. Right now I have it set up so that if a player clicks "start build phase", all the buildings, resources, and men on each player window are sent to the same coordinates on private player windows. Once every active player clicks a "commit" button, all the buildings, resources, and men are sent back to their public windows. Does this sound OK? It feels a bit clumsy, but seems to work.
Thanks for reading!