Z-Man are pretty good at bringing things back into print (eventually).
I wouldn't be so sure.
Asmodee have been through some massive upheaval lately - Plaid Hat going indie again, and Z-Man giving up rights to a whole bunch of games. What that means for the business backstage is anyone's guess, but they've clearly had a change of direction. It's all been phrased as 'big business let's the smaller businesses afford to go indie. Run free little one!', but that all could be PR speak.
Arabian Nights is also one of the less PC games with what can happen with the story and the Orientalism. Are they going to straight up reprint it and risk potential controversy? Leave it to quietly die as an odd antiquity? Redesign the more problematic parts and release a new edition? Any of those is possible.
The longer they leave it, the more potential there is for controversy, as "old game comes back after XX years" is a bigger event, so people are more likely to notice it and want to talk about it than if it never went out of print in the first place. It also increases the chance of more reviews, and reviewers these days wouldn't be able to escape without commenting on the issues in some way (even if it's just to say they don't mind it).
For all these reasons, deciding to reprint an old game is a completely different discussion to deciding to stop printing a game that's always been in print. So to me, a reprint like for like seems less likely.
But optimistically speaking, as a narrative game, Arabian Nights is one of the easiest games to redesign. They can rephrase affected passages with minimal change to the mechanisms, or even completely retheme the game to a different setting. They could easily turn it into a 10,000 Leagues Under the Sea or Around the World in 80 Days type story.
Please see exhibit C: Chinatown
Yeah, especially bad the could easily be redone as 'generic business moguls'
Which cases are in this box? Is it the back to front Wellington one?
The Munitions Magnate
Tin Soldier
Mystified Murderess
Lionised Lions
Cryptic Corpse
Pilfered Painting
Solicitous Solicitor
Thames Murders
Bankers Quietus
Mummy's Curse
Having a mini clear-out, so I have some games for sale (not shown: the four other games that my husband made me put back on the shelf

). All prices include shipping within the UK. I'm happy to ship overseas, but it will be more expensive.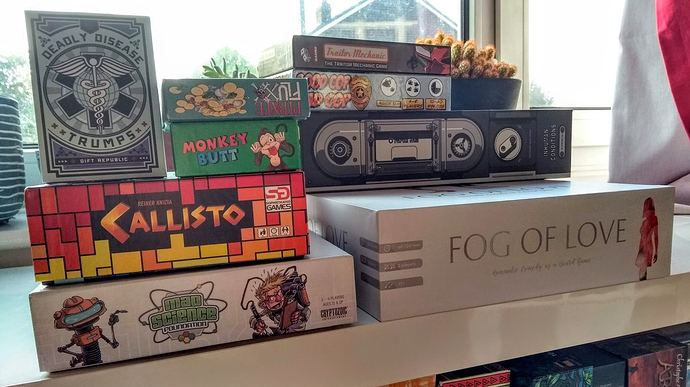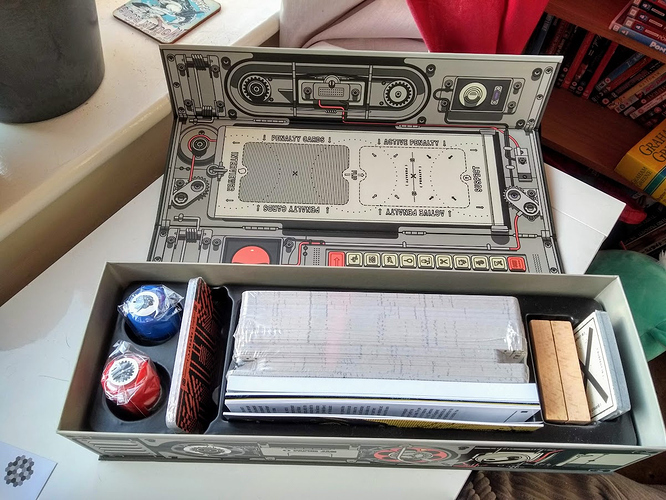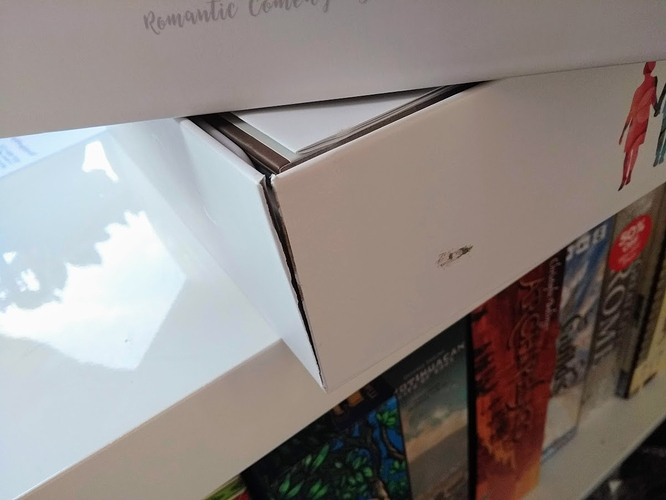 Fog of Love with some promo cards: £30
There's some damage to the inner box (see above), but all the components are in excellent condition, and it's been reset.
Inhuman Conditions - unplayed Kickstarter edition: £30
This was an unwise Kickstarter choice on my part. I'm a completely inept liar and hate roleplaying… but it sounded really cool!

Traitor Mechanic: £12
Good Cop Bad Cop: £12
Mad Science Foundation: £15
Small games for £7 (or £5 with another game):
Callisto: Another one of Dr. Knizia's offerings
Monkey Butt
Pirate Fluxx
Deadly Disease Trumps (exactly what it sounds like): £3 with another game
I'm open to offers and trades. My BGG wishlist is here.
Shelf space is getting tight at Whartson Hall!
Location - UK, Leeds, West Yorkshire
Ships to - Anywhere, but realistically UK only as it's a big, heavy box
Games - OGRE Sixth Edition: signed by Steve Jackson, £35 (+p&p), New in shrink-wrap.
Shipping cost: £5 UK mainland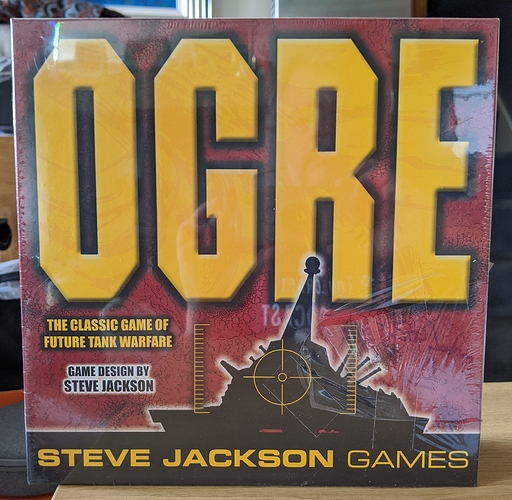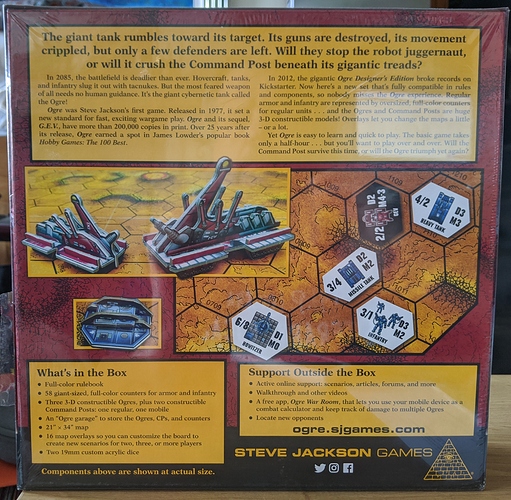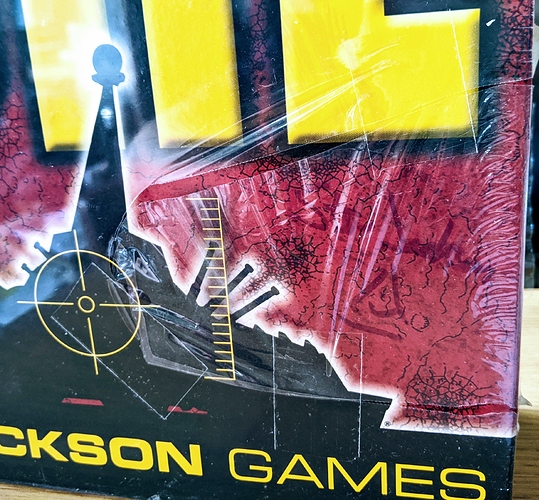 A new and unopened copy of OGRE Sixth Edition by Steve Jackson Games, signed by Steve Jackson. The plastic was peeled back in one area to allow Mr Jackson to whimsically sign the red box with a red Sharpie, but it is otherwise unopened (see detail photo).
Collection from Leeds can be arranged, subject to pandemic restrictions, or I can post it: basic 2nd class will be about a fiver. If you're OK with the inevitably much higher cost to ship it overseas then I'll consider posting to most places, but this is not a small game and it wouldn't be cheap.
Snap!

(Closest I could get to a Yorkshire rose)
Good enough for me. I'm a Staffordshire lad and terrible at botany

I use "for sale" lists from people like LaLunaVerde to see which games I can safely ignore. I guess this could backfire when people upgrade their games with later editions.
From the two lists, I sold Die Dolmengotter because I want the prettier Dolmen. Well, relatively prettier. It still has the TTR size box, but eh.
Heya id be super interested in Finca!
Does anyone want a German version of Quacks of Quedlinburg? Willing to part with it for just postage as just want rid. Never played but it was punched.
And does anyone have a North Star one looking for a new home, with or without Herb Witches?
Always fancied trying quacks is it language independent?
If you got a translation of the potions it is
Sorry, that sounds a bit arsey and wasn't meant to.
There are 4-5 colours of token, and each has a short description of what they do - I think there is a 'b' side to each as well.
They don't charge once the game has started, so if you can translate those then the game is language independent imo.
There are some event cards as well, but I can't remember how much is written on them.
Yeah there is some required translation and could be a faff until you learn what everything does - unless you're willing to stick something over to remind you in English!