So we played our second "game" of Innovation the other night and instead of my partner conceding the game after a few turns, we switched seats and I had to continue playing with my partner's cards…
I had opened the game with "Clothing" on turn one and used the dogma directly to play another card and scored. I repeated this the next turn and the one after that to dominate age 1 in turn 4. Obviously, I also had all the colors on the table by then.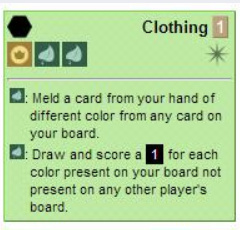 I cannot remember which card he played, I think it might have been Oars or Archery. Whatever it was, he didn't use the dogma. We then switched places and he proceeded to use my setup to win by the time we hit age 5. I made a few stupid mistakes later in the game (f.e. by not using the dogma on City States to decimate his huge number of cards with towers) and thus helped him along. It seemed to him like the win was inevitable from my initial setup with the Clothing card. I don't want to believe that.
What are some good strategies to catch up or decimate another player who is in the lead?
Do we need to memorize the cards to play the game well?
How important is it to keep track of my opponents cards? Or is it more important to match his symbols to profit from the dogmas he uses?
Are there any easily made rules mistakes we have to avoid?