Honestly, it wasn't the most rational of purchases. I knew an acquaintance was selling the game, so I messaged him to say that I was on the verge of buying it from an online store, but I'd prefer to buy from him. He asked how much the store was selling it for, I told him, and he said that was a good deal and I should buy from them. I felt that was… wrong? Like, he was trying to call my bluff? So I bought it.
Okay, I know I said I was done with game purchases for a bit, but I was at Goodwill and they had Fuse for just $2.99. How could I pass that up? Even if I end up not liking it, I should be able to get my money back easy enough.
Availability has apparently been spotty for FUSE - I got one in a maths trade, it didn't arrive, and the sender had some difficulty in finding a new copy. So that should bode well for getting rid of it at a decent price.
After going off Battle Sheep I (re)bought Hey That's My Fish!. Specifically the version that comes in a 6 cm square box. Gets over the 'how big?' box and also the fits in 'Raged_norm's small box games cupboard'™
I have "Hey That's My Fish In Space", aka Small Star Empires. Great fun when I play it, but I hardly ever play it.
I had that, but found it too fiddly with all the little differently shaped ships.
Got my copy of 1862: Railway Mania in the Eastern Counties. It's my first ever 18xx game!
Didn't buy it, but I've been a bit down about Covid and work so my wife has bought us Targi to cheer me up.
My wife is awesome
Got Dracodeep Dungeon from the Storymaster's Tales in the mail yesterday. Haven't opened it up yet, but we're headed up to the mountains with the kids, and it's coming with.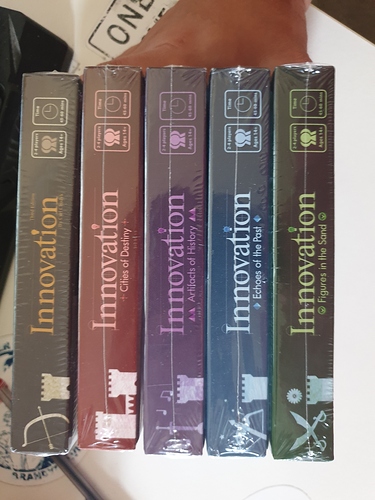 Lol same. Noice

Found the expansions on eBay for 13 quid a pop, which is decent considering how hard they are to find. Bought the base game with it.
I can retire my 2nd edition now.
That'll be one you have to teach me then!
Strangely, I also received Innovation just yesterday (used, from Canada, via BGG auction). Unfortunately, it went right on the pile of moving boxes.
What a coincidence!
I hope @Name1ess had a copy of Innovation turn up in the last 2 days so we can blame 1861
Innovation #4719 to base: network established, I say again network established. Go for phase 2.
Joining in the fun even though my copy's hardly new as I got the Deluxe version ages ago. Was it a Kickstarter I backed? Sounds right. Too large of a box that I didn't like whatever organization system it came with so I made my own for it.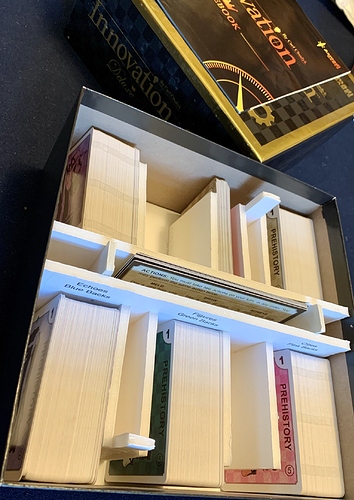 Pro: sleeved cards will be fine, unlike our 3rd edition (if youre one who likes to sleeve)
Also, pro: you can put other Chudykness in there!
Con: yeah. Thats why I avoided the Deluxe. That box is dumb
All of you are responsible for me ordering the Echoes of the Past expansion just now.
Well that is a coincidence!
This is the version I've got. Interestingly mine has a different form factor and I believe that the rule set is somewhat different from the original game, but I think I've just about got the hang of it now…
Different box art - maybe version 3.5 ?!?