Ten credits on Bumpy Mother!
For those with appropriate fonts installed, I believe 翻译服务器出现故障。 is right.
Google reckons that says "Translation server has failed"… Or maybe their translation server has failed… It's the Welsh road sign all over again!
Yup!
(It's actually a "subtle" reference to the way this supposedly American-Chinese setting has a remarkable absence of actual Chinese people.)
I'm sure Nick could do* the accent if you ask…
*attempt
When I first dropped that into the translation tool it returned a different answer, believing it was Japanese…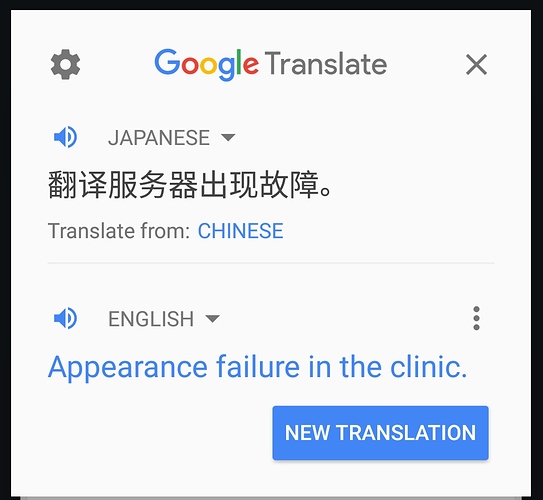 For the many asking me, here is the full list of possible ship names that we discussed:
Some random ideas - The Last Stand, The Alamo, The First One's Free, Thirsty Work, Risk Assessment, Joss Ackland's Spunky Backpack, Clitoral Fossa, Roger Over, What Remains of the 5th Foot and Mouth, You Want Flies With That?, The Phallic Metallic, All Cylinders, Furry Dice are the most Tasteful Thing on Board, The Passing Place, Are Friends Atomic?, Fahrenheit 4 Million, Cautiously Optimistic, Grave Prognosis, Photo Finish, Shipping Forecast, Aggressive Diplomacy, Erogenous Bone, No Holodecks Please, My Friend Watched C-beams off the Shoulder of Orion and all I got was this lousy Spaceship, The Droids You're Looking For, The Alabaster Disaster, Code Brown, Supporting Lintel, Urethral Obstruction, Opening Band, The Whisperer in Darkness, 4X, Placeholder, Saving Throw, Honest Abe, Tricky Dicky, Milli Vanilli.
Also:
/The Dirt Shark, The Dirt Surfer, Glory Hole, Manly Pursuit, Trivial Pursuit, Loss of Consciousness, Redshift, Redwater, Bluetongue, Braxy, The Last Time I Encountered Leslie Crowther, Hirsute, The Andromeda Train, Zoastrer Than Light, Insipid Lipid, The Protein Shake, House of Forbidden Leisure, Excretathon, Z-List, Saluting our Alliance Bastards, The Wayward Son of Marion Zimmer Bradley, Iron Lung, Iron Bung, Iron Iron, Ironic Title, Fisting to the Stars, What is Felching Anyway?, Greylist, Tarzan's Marzipan, The City That Never Bleeps, Inevitable Betrayal, Poor Patrol, Victimless Crime, Outpost 32, Glenn Miller's Search Party, The Good, The Bad and The Ugly/ (three seperate suggestions there), /Robber Button, For a Few Credits More, Credit Me With Some Intelligence, Congential Genitals, Cognitive Dissonance, The Ship With No Name, Foreplay, Afterplay, Inthemiddleplay, The Light Elastic, The Fusion Illusion, Uncertainty Principle, Sweet Dreams Are Made of Titanium Alloys, Betamax, My Other Spaceship Is a Lava Lamp, Langrange Point, Langrange What's The Bloody Point, Spaceboot Hill, Buzz Aldrin's Desperate Need To Pee, Humdinger, Bumdinger, The Lonely Mountain, As Long As You've Got Your Elf, We Toss Dwarfs (/or Dwarves/), Drums In The Deep, Bums in the Deep, Bums in the Beep, Wums in the Weep /and /Colonic Impaction.
What kind of fevered but clearly genius mind could come up with such a dazzlingly exciting selection on names?
Me. It was me. All of them. And you know how many of them we picked for our ship name?
None. None of them. That's how many.
But I think all the episode titles are yours.
And I'm going to steal some of these for other games.
It was an embarrassment of riches, Nick, impossible to choose any one of them.
I may be wrong about the "of riches" part, but I stand by the rest.
Glad I'm not the only one who remembers BraveStarr.
Looking forward to the crew's bold heists and veterinary exploits.
Admittedly not having yet reviewed the evidence, I find that final sentence deeply hard to believe. I mean, it's no Protectatron.
I'm reminded of the regular listings of bizarre band names showing up for the immanentization of the eschaton in the Illuminatus Trilogy.
Without Jon you're the Big Jack Brassless Chaps. I think that was worthy of @Lordof1.

Thanks for another fun episode.
Trying to figure out why "Sir" wouldn't be an appropriate form of address for a ship's captain. Unless Dora doesn't like being called "Sir?"
Funny how Nick pronounces "Bellerophon" better when he's mumbling!