My longtime favourite SF/GP RPG ForeSight has a representation system for toolkits. You can get a NuSwiss Army Knife (pocket multitool) that gives a -2 equipment penalty on any Repair¹ tasks. Otherwise, you can get a Basic, Standard, or Advanced toolkit (or fit out a Small Facility or Large Facility) specialised to any field of knowledge with a "size" rating, that gives a -1, 0, +1, +2, or +3 modifier (respectively) to Diagnose and Repair tasks using that FoK. The grade of toolkit, "size" rating of the field, and tech level combine to tell you what the toolkit costs and masses. The usual termingology was grade field "kit", e.g. "basic emergency medical kit".
When I was a student at ANU and for a couple of years after, nearly all my friends were RPG friends, and the thing that we far most often used to do together was to play an RPG. We couldn't afford much else. Anyway, where some people have an "everyday carry" of tools, weapons, and survival essentials, I used seldom to go far without taking a few things along in case a scratch RP game or supernumerary session of one of our current campaigns should break out.
My minimal outfit of RPG essentials was referred to as "Brett's basic RPG kit". It consisted of copies of ForeSight and HindSight, an exercise book or writing pad, a calculator, a pocket atlas, percentile dice to use, percentile dice to lend, a d6, a rubber (eraser) to use and a rubber to lend, a handful of mechanical pencils and a biro.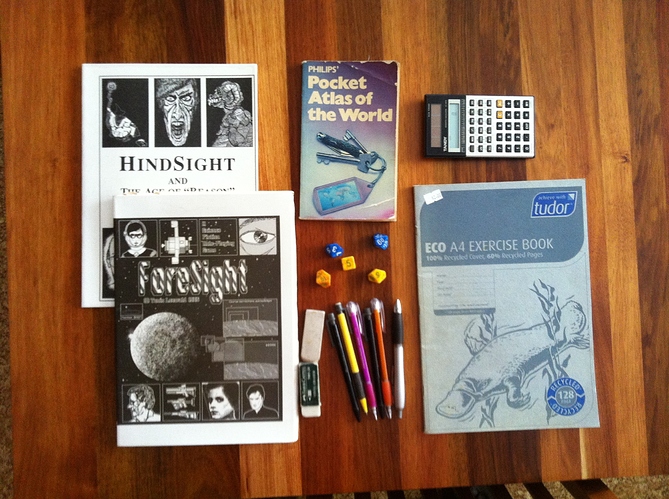 When transport was easier (e.g. when I had my own car) or the danger of an outbreak higher, I carried my standard RPG kit: two copies of ForeSight (one to use and one to lend), two copies of HindSight, enough dice for a whole playing group, a calculator, two rubbers (erasers), a handful of pencils, a biro, red, green, and blue felt-tips, an exercise book or writing pad, index cards in two colours, a pocket atls, background material on my usual SF setting and my usual fantasy setting, folders containing my notes on my current campaigns, a folder of blank character sheets, and folders containing pregen characters for fantasy, contemporary, and SF scratch games.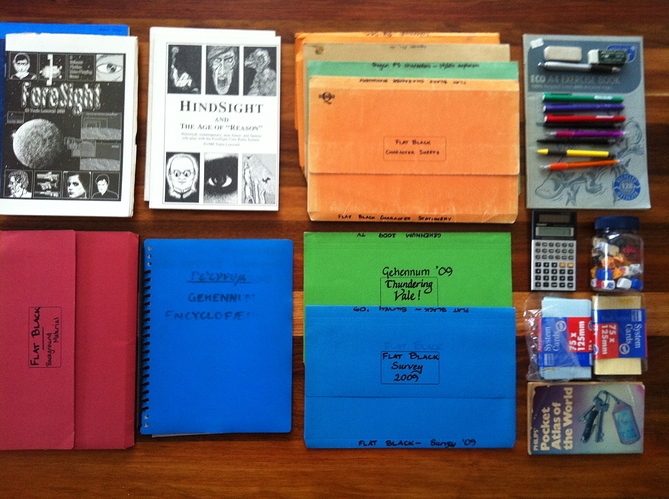 Nowadays, with portable computing devices, Wi-Fi access to the Internet, and almost ubiquitous printers I suppose a chap who had a well-prepared DropBox account or Google drive could manage rather well with a very portable RPG kit like this: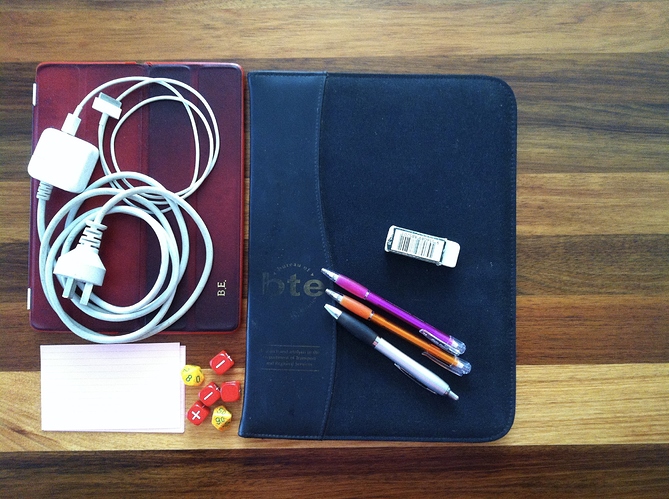 That effectively contains complete rules for a dozen or so RPG, plus a bunch of supplements and settings, many, many pregen characters, and access to Google Maps, Wikipedia, and several vastly detailed fictional settings. I suppose it would have to rate as an advanced RPG kit. Just as ForeSight might lead you to expect, a higher-tech toolkit is smaller and lighter but rather more expensive.
---
¹ In ForeSight "Repair" is a generalised tool-use skill that is also used (with enabling fields of knowledge) for making things new.