Where did you get your 3mm foamcore from? I've been coveting that for ages!
Amazon actually. There was more of it than 5mm.
grand, thanks. I've only ever found it in white.
I didn't want to spam everyone with the two dozen photos of inserts I made since I started last September so I made an album instead
and because there was some talk about setup for Bärenpark here's my solution: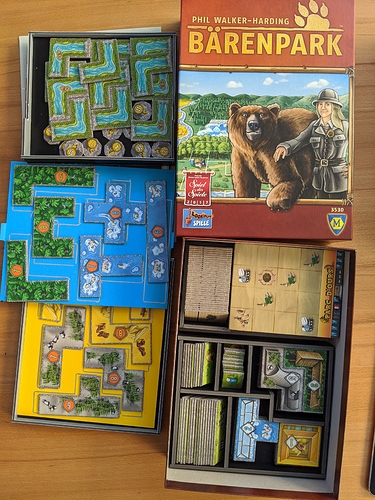 That's a very attractive insert. You done gave me a need.
I posted these back on the old forum…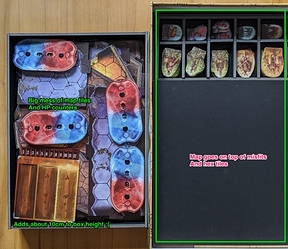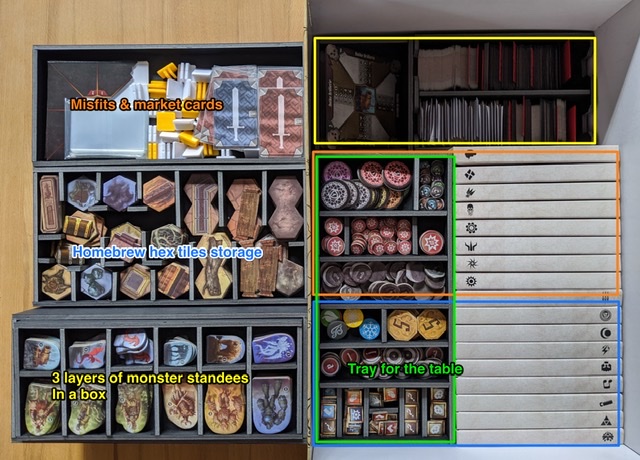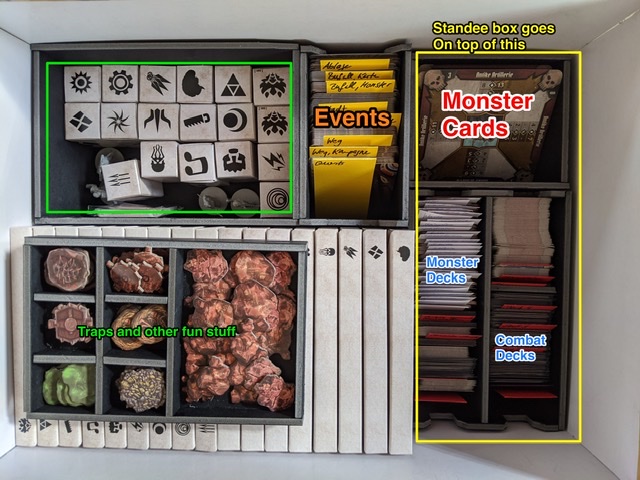 I made this after a schematic found on BGG. Sadly at the time the schematic wasn't quite complete so I improvised some but it has been updated to a new version so… maybe this is even better now?
I recently did the same build again with the son of friends who also bought the game and it was much quicker. Alone it took me two afternoons, with a "helper" the second build was completed in one afternoon.
Ps if you use the helper app there are quite a few materials no longer actually needed like monster envelopes and combat decks so one might consider adapting the insert to leave out the superfluous items and make space for forgotten circles instead
Pps this was one of my first builds, third or so… it just takes patience and an hour or two to learn how to cut straight and glue stuff…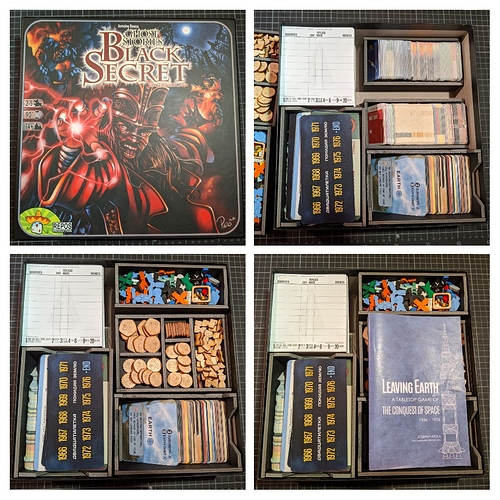 I couldn't resist building one for a game that requires such an intricate setup. As can be seen I had to recycle a box from another game. So what I need now is to print some kind of box cover and make a lot of dividers to be able to find cards quickly and make some kind of quick setup plan.
If anyone likes the idea of Foamcore but doesn't quite want to make the leap to designing and cutting inserts themselves, I have had a lot of success with Folded Space's inserts, which are pre-cut so you only need to glue them. More expensive than making your own but for the DIY-anxious like myself they're a relatively cheap option for inserts.
Edit: now with photo evidence! Their Mysterium insert leaves space for expansions: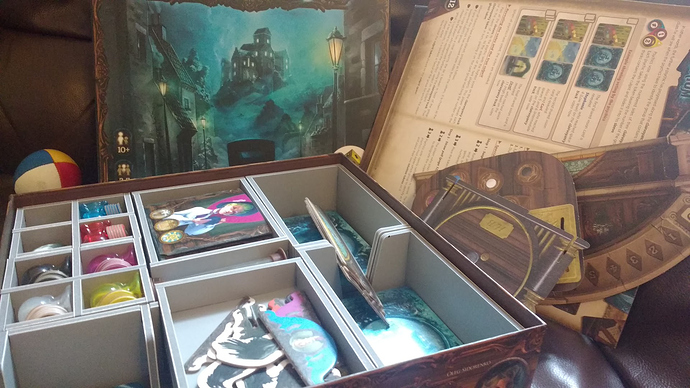 I must say that some games seem daunting right now because I didn't build as much over summer. A Feast for Odin would definitely be improved by a custom insert… those plastic trays just don't cut it. But just looking at the box makes me want to buy an insert instead of attempting my own build.
I am quite tempted by this - my family love Mysterium and it IS a pain to set up and put away.
It's fairly good value and I had a good time gluing it together. If you're interested and can spare the money I would go for it, makes a nice afternoon activity as well.
I also need to buy the expansions…
I meant to come back to this and ask if everyone really thinks the Mysterium insert is worth it?
I would say that a Mysterium insert of some kind is definitely worth having. I have this one 3d-printed.
The more complicated setup for a game is the more an insert can do for the game. I do not own Mysterium but if there are lots of different card types that need to be separated, it's probably worth having an insert.
A lot of my recent arrivals came with included organization (Moonrakers, Dwellings of Eldervale, Obsession cannot truly be improved upon for in box storage and I got the big wooden insert for Spirit Island).
But… I still need to make one for Feast of Odin… shudder…
The one I am looking more forward to is Dune. As the plastic in the box apparently had no idea there were two more factions coming with the expansion.
The insert that comes with Mysterium does a pretty good job of separating components without wasting too much space, and I know that it can accommodate one expansion quite comfortably (from what I remember it looked like it was designed that way). For more than one expansion, you'll probably need a custom insert.
Yeah, there are too many dream cards after two expansions to fit in the default insert. Even with just the one expansion it is overflowing the slot for them. For just the base game, however, the insert works fine. Setup time is more due to card shuffling and finding the ones being used for that game rather than difficulty in sorting components.
Yes, I've wondered about a card album (such as people use for CCGs). Usually my answer to this is to get the players to help out with the setup.